Everybody wants a recliner these days. They are one of the most popular pieces of furniture and the catalyst of many a family argument on who gets to sit on the recliner tonight.  With so many brands, styles and budgets of recliners available, it can be a little overwhelming choosing the right one.  So what makes a great recliner chair?  In this article, I will look at some of the most important features that make a recliner 'Great'!
Quick Links to Info on this Page
Comfort –
First of all, comfort is supremely important.  A recliner needs to be a mixture of your favorite armchair and a relaxing bed, all-in-one.  A good quality recliner should be so comfortable that it will easily become your very own sleeper recliner.  Speaking of beds, many recliners are now infused with memory foam for that super mattress like feeling.  Whether you like your chairs extra-padded or firm, your recliner should always be extra comfortable.
Support –
A good quality recliner should have added support for the neck and lower back.  This is especially important for people that use a recliner for lower back pain relief.  Sitting down at a recline angle will take a lot of pressure off the lower spine, so extra support for the lumbar region is necessary to keep the spine in the right alignment.
Full head support is also important, especially if you use the recliner to sleep on.  There is nothing worse than waking up with pains in your neck and shoulders after you take a nap.  A good quality recliner should also have firm stuffing that will stay in place after heavy usage.
Durability –
Whether the frame is made of hardwood or metal, the best recliners are constructed with top quality materials and built to last.  A good recliner should last for a number of years, however it is important to choose a recliner that suits your own frame.  If you are a heavy person, then a recliner that is designed for bigger people is a must.  Thankfully, there are plenty of heavy duty recliners that can accommodate people of 300, 400 or even over 500 lbs.
Cleanable –
It is not only the frame that should be durable, but also the upholstery.  A recliner is a very versatile piece of furniture suitable for any room.  The whole family can use a recliner for reading, watching TV, sleeping or even eating on.  With all this usage and activity, it will surely stain from shoes, dirty hands, drink and food spillages.  It is not only important the upholstery won't easily tear but also it must be easy to clean.  Many synthetic micro-fiber materials do not absorb dirt and stains well, meaning that the use of a damp cloth can clean them well.
Space Saver –
This one is especially for people with limited space in their homes.  Depending on the size of the recliner, they can take up a little more space than a regular armchair when in the recline position.  Wall hugging recliners are a great way of reducing this footprint because they need very little space between the back of the chair and the wall.  There are plenty of compact recliners for small spaces, that are ideal for apartments and small homes, however if you are a tall person then a wall hugger might be a good option to save space when you need a large recliner.
Affordability –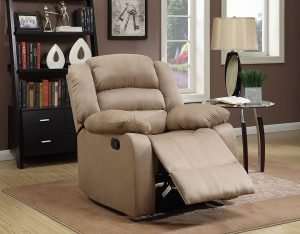 This is a personal choice, however I do understand that if you like many different features on a recliner, then you will have to pay that little bit extra.  However, you can still get some great quality recliners on a budget.  Fortunately, there are plenty of recliners to suit all different budgets, from the bargain recliner to ones that cost over $1000.  At every price range you should be able to pick up a decent quality recliner.
Features –
If you only want a recliner to lie back and put your feet up, then a cheap recliner is all you need.  You should be able to find a basic recliner that functions well and provides a comfortable chair to lie at an angle.  However, some people like to have or need to have the extra features.  For example, a zero gravity recliner will allow you to lie back horizontally in a really comfortable position, great for relaxing and sleeping.
A massage recliner will allow you to have a Spa like massage at home, with vibrating, heated and moving parts, that will soothe and relieve aching muscles.  A power lift recliner is ideal for the elderly and disabled.  A power lift recliner can help assist a person that finds it difficult to sit down or stand up without the aid of another person.
As I said earlier, extra features are not necessary for everybody, however they do help make a great recliner even better.
As recliners become more affordable and available for every home, they have become one of the most popular chairs to have.  Whether you like a basic recliner or a recliner with all the frills and extra features, it is a personal choice.  What do you think makes an awesome recliner?  Let us know in the comment section below.