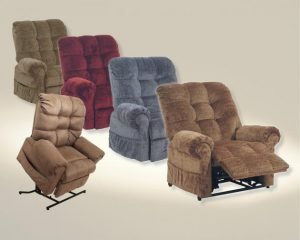 There are a number of Catnapper recliners on the market and many have some decent weight capacity, however this Catnapper Omni Power Heavy Duty Lift Recliner has the highest weight limit of 450 lbs. Catnapper is made in the USA and has a solid reputation for building high quality furniture for American customers for several decades. Lets have a closer look at this heavy duty lift recliner chair to see who it is suitable for, so that you can decide if it is a good option for you.
This page contains affiliate links. We hope you love the products we recommend but just so you know, if you purchase a product from one of our links below, we may receive a small commission. Details here.
If you are in a hurry, then you can check out the Price and Customer Reviews Here.
Quick Links to Info on this Page
Who Would Benefit From Having A Catnapper Omni Power Heavy Duty Lift Recliner
Any one having problems standing up or sitting down will benefit greatly from a power lift chair. The elderly, disabled or a person recovering from surgery may need assistance doing basic tasks such as standing and sitting. The beauty of a electric lift chair is that it gives independence to people that normally need help doing these tasks.
Elderly – Many elderly people have arthritic knees and as part of the aging process, their muscles have weakened. This can make the squatting motion needed in sitting down and standing up, a lot more strenuous. Many older people find that they need to use their arms to push themselves up to a standing position. Upper body strength is needed to give this push, however this will also weaken over time, making the whole process quite challenging. A power lift chair, is a Godsend to many elderly people because they do not need to use their arms to push themselves up to a standing position. Just the press of a button is all that is needed.
Disabled – People with disabilities will have similar issues and often need a carer to take care of them. A lift chair is a wonderful aid for people with disabilities because it will allow them to stand and sit without the need of human assistance. Most people take these basic tasks for granted, however for those that struggle to do them, the ability to have independence is a great feeling.
Surgery Recovery – When recovering from hip or knee surgery, sitting down and standing up can not only be difficult but also very painful. The bending of these joints can also aggravate the injury, subsequently lengthening recovery time. The least amount of strain possible is necessary to quicken recovery, therefore a power lift chair is a wonderful aid. Not only is a power lift recliner great for the reasons stated above but it is also great for rest and relaxation. Many people recovering from surgery use their recliner as a bed. Recliners are not only great for resting on but they can also be comfortable enough for sleeping on.
Heavy People – What makes this recliner stand out from the other Catnapper recliners is its weight capacity. This heavy duty recliner has a weight limit of 450 lbs. 450 lbs is not as high as the Stallion by Lane Furniture (not a power lift recliner) or the Mega Motion power lift recliner, both having weight capacities of 500 lbs, however it is still a really good weight limit. For anyone overweight (within these weight limits) and struggling to stand up or sit down, then this power lift recliner may be a good option for you.
Materials & Construction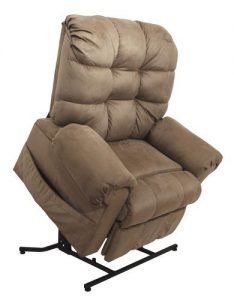 The Catnapper Omni recliner has very plush seating and a solid and sturdy construction. There are five fabric colors to choose from – Chianti Red, Thistle, Havana, Black Pearl and Saddle. The recliner has comfort coil seating for added comfort and uses fire retardant heavy duty fabrics and cushion materials for added safety. This heavy duty chair has extra large seating space and a steel seat box interior that allows up to 450 lbs weight capacity.
The battery back up system requires two V batteries (batteries are not provided with the chair). This safety back up system is a wonderful feature to have because if there is ever a power outage and you are on the chair, you will not get stuck. The back up battery will automatically turn itself on if there is a power surge, which means you can rest assured that you won't be left in a recline position waiting for the power to return.
Dimensions –
Its Overall Height : 46″
Its Overall Length : 45″
And Overall Depth : 42″
Its Seat Height : 21″
Its Seat Depth : 22″
And Seat Width between arms : 25″
Depth fully reclined: 69″
Arm Height: 28"
Weight : 144 lbs (unboxed)
Features –
450 lbs weight capacity
Comfortable Waterfall Back
Plush Chaise Seating
Large Scale Heavy Duty
Back up battery for power outages
Back up battery uses 9V batteries (not included)
The powerful 24 volt motor lifts with smooth, quiet efficiency
Full Lay-Out (reclines further than a regular recliner but not 180°)
Limited Lifetime Warranty
Plush Pad Roll Arms
Steel Seat Box
Pros & Cons
Pros –
Heavy duty chair with a 450 lbs weight capacity
Battery back up system for added safety
Smooth and quiet motor
Decent width size
Full lay out allows you to lie back further than a regular recliner
Made in USA from well respected company
Cons –
Not cheap
Back up batteries not included
Catnapper Omni Power Heavy Duty Lift Recliner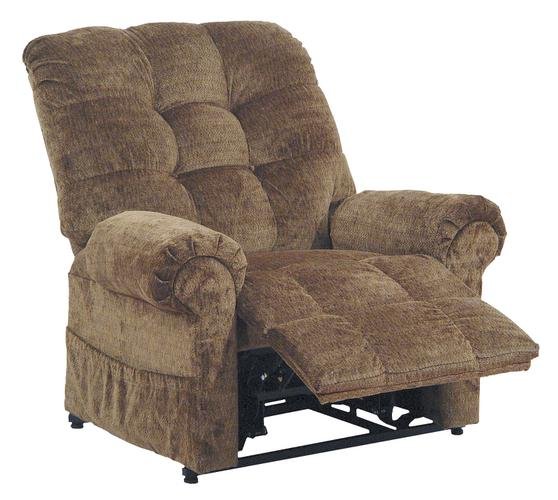 ---
Final Thoughts
Sometimes it may be hard to choose the right power lift recliner for you, therefore a brand name you can trust is usually a good starting point. The Catnapper Omni Power Heavy Duty Lift Chair is a good option for the heavier built person due to its impressive weight capacity but it is also a very comfortable chair. If this chair is the right size and has the right features for you, have a look at some of the customer reviews through the links above so you will have a clearer picture on whether this one will be your ideal heavy duty recliner.