Sometimes it feels great to sit in an oversized chair that is too big for you, however, there are benefits to having that perfect fit.  In this article, we will be looking at some of the best small recliners for short people.  One benefit to having a smaller recliner is that it fits your body.   It has been designed for a short person around the back, seat and foot area, therefore, all the comfortable places are targeting the right parts of your body.
Secondly, having a smaller recliner saves space.  Some of these extra large, over sized recliners are huge and take up a lot of space in your room.  Not only this but they are also damn heavy if you need to move it around.  If you are short, it is far better to have a compact chair that can be stored easily.
Finally, smaller chairs are naturally cheaper.  Some of these large chairs can be quite expensive, therefore, it is an added bonus to pay far less for your ideal sized recliner.
This page contains affiliate links. We hope you love the products we recommend but just so you know, if you purchase a product from one of our links below, we may receive a small commission, at no extra cost to you.
My #1 Recommended Pick Small Recliner For A Short Person
Lane Furniture Chloe Recliner –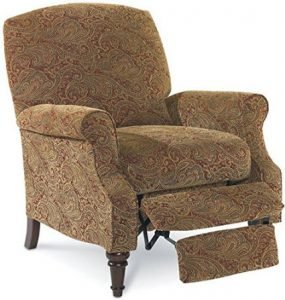 To be honest, I chose this recliner as my #1 pick because I am a big fan of Lane Furniture recliners.  They are the best company for making recliners for people of different sizes, from extra large to small.  They have a great reputation and have been making recliners for satisfied American customers for decades.
So what is great about this chair?  First of all, I imagine some people, like me, will just love the look of this recliner.  It has a classy, chic look to it and I imagine it is not everyone's cup of tea but I think it looks great.
Like all Lane Furniture, the Chloe Recliner is solidly built with strong, durable materials.  The weight capacity is over 300 lbs, however, it is designed for shorter people.  The measurements are 38″ height by 35″ depth by 32″ width.  This chair is not the smallest in this article, however, it is a compact chair that is ideal for small spaces.
The chair is not a wall hugger, however, with around 8″ space between the back of the chair and the wall, the chair can go into a full recline position.  It weighs 72 lbs so should not be too hard to push around.
The design of the Chloe Recliner is a paisley design with a mostly gold color with bits of black and red, however, I just found a caramel version here and it is around $100 dollars cheaper at the time of writing this.
If you are looking for a great quality, solid, compact and classy looking recliner chair for a small room, then I recommend my #1 choice, the Chloe Recliner by Lane Furniture.
Details –
Color : Paisley or Caramel
Dimensions :  38″ height by 35″ depth by 32″ width
Weight : 72 lbs
Weight capacity : Customer over 300 lbs stated it supported him fine
Compact and solidly built
Not a wall hugger (needs 8″ space between back of chair and wall to allow full recline)
Arrives fully assembled
Lane Furniture is a reputable company
Made in the USA
---
Best Value Recliner Chair For Small People
Lucas Light Beige Fabric Recliner Club Chair –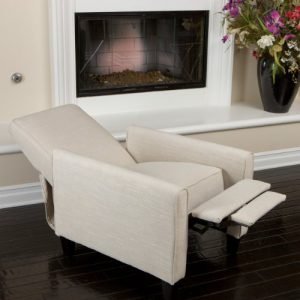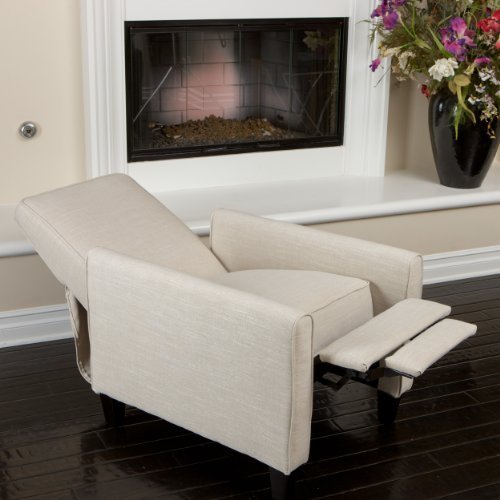 The Lucas Recliner is an attractive chair that will fit into any living room.  It is a stylish chair, however, not a spend hours in a padded cushioned kind of chair.   That being said, this chair is definitely comfortable, it is just a 'firm' comfortable.
The Dimensions of the recliner are 26.8″ width x 33″ depth x 35.2 " high, therefore, it is the smallest chair I am reviewing and is ideal for small spaces.  At 60 lbs it is quite light also.  There was no weight capacity stated, however a few customers well over 200 lbs found the chair to accommodate them fine.
It is made from sturdy hardwood and covered with soft beige fabric upholstery.  I believe the recliner will give a stylish contemporary feel to a small living room and its color is versatile enough to match most decor.
One feature I really like is that the Lucas Recliner has a multi position recline feature that allows you to choose how far back you want to recline.  This means you can choose the ideal recline position for you rather than choose one or two angles chosen by the manufacturer.
The Lucas recliner is not a wall saver, however, the chair is one of the lightest available, therefore, it won't be too difficult to move it away from the wall.
If you are looking for a modern, stylish recliner to add a contemporary feel to your small room then the Lucas Light Beige Fabric Recliner Club Chair is worth considering.
Details –
Great Value
Color : Light Beige
Dimensions :  26.8″ width x 33″ depth x 35.2 " high
weight : 60 lbs
Weight Capacity :  Around 250 lbs
Not a Wall saver
Contemporary style chair
Solid yet comfortable chair
Multi position recliner
---
Top Rated Swivel Recliner For Small Spaces And Nursery
DaVinci Piper All-Purpose Upholstered Recliner –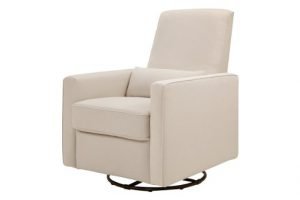 I really like this chic looking swivel recliner by DaVinci.  Not only does it look great but it is a fantastic all rounder recliner.  It reclines to an almost flat position and is ideal for nursing mothers that want to lie fully back with babies that like to sleep on their chest.  Nursing mother's can transition to a recline position by pulling the handle on the inner side of the armrest.
Another bonus feature with this recliner is the 360 degree swivel action that allows you to move all the way around with the push of your foot.
The fabric is made of heathered polyester with white piping and is soft, durable and comfortable.
Another positive for this recliner is that even though it is not very large, it still has a long back rest, which is great for relaxing your head(for short people and even the not so short).
DaVinci have also kindly provided a bonus lumbar pillow to give your lower back some added support.
If you are looking for a chic, attractive, swivel recliner suitable for small rooms and nurseries, then I recommend the Piper All-Purpose Upholstered Recliner by DaVinci.
Details –
Great recliner for nursing mothers
Colors : Grey with white piping or Cream with white piping
Dimensions : 30.7″ width x 33.5″ depth x 38.5″ high

100% soft and durable heathered polyester fabric with white piping

Smooth reclining function with plush popup leg rest

Hidden footrest handle for streamlined look

Metal base that allows for a smooth and gentle 360 degree swivel motion

Forward and backward gliding

Minimal assembly required

Free of chemical flame retardants

Lumbar pillow included

1 year warranty

Imported
---
Best Budget Bargain Children's Recliner For Kids
Flash Furniture  Contemporary  Microfiber Kids Recliner with Cup Holder –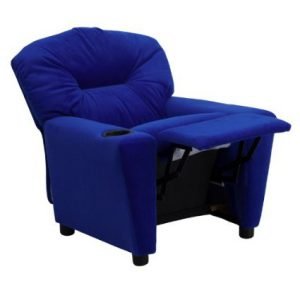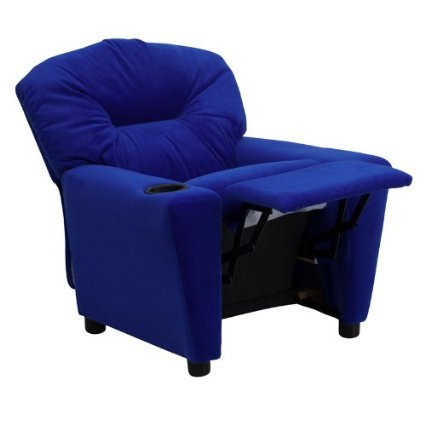 When I first saw this recliner I thought that maybe it would be large enough for very small adults.  You know the way a small adult can still buy kid's size clothes and shoes kind of thing.  Well unfortunately, this great looking chair is only for children, and small children at that.
One customer recommended that unless you are under 3′ in height then you will be too tall for this chair.  The main problem is that the back rest is not long enough to provide support for anyone taller.
That being said it is a great budget recliner for children and can really make them feel like a grown, next to your recliner.
I also really love the little cup holder in the armrest, for their drink.
If you have a child under 6 years old that is no taller than 36″ in height, then definitely have a look at the Flash Furniture  Contemporary  Microfiber Kids Recliner with Cup Holder.  It is great value and I am sure every small child will love it.
Details –
Colors : Available in 13 different colors
Dimensions : 28″ width by 24.5″ depth by 39″ height
Weight capacity : 90 lbs
Materials : Microfiber

Overstuffed padding for comfort

Easy to Clean with Damp Cloth

Cup holder in armrest
Flash Furniture Contemporary Microfiber Kids Recliner with Cup Holder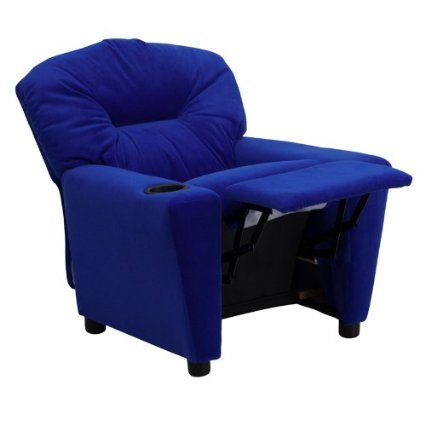 ---
We hope you found this article on the best small recliners for short people, helpful.  People come in all shapes and sizes and thankfully there is a recliner to fit every body shape and size.  If you are looking for a small recliner for your home, hopefully you liked one of the compact recliners reviewed above.