If you have the extra room in your living room, then why not get an extra wide recliner chair. Whether you need that extra width for yourself, or maybe you want to cuddle with your partner in a single chair, or how about reading a story to your kid/grandchild, snuggled up in a giant recliner. Extra wide recliners are versatile and are built for lazy days of relaxation.
Lets have a look at my Top 3 Extra Wide Recliner Chairs :
This page contains affiliate links. We hope you love the products we recommend but just so you know, if you purchase a product from one of our links below, we may receive a small commission. Details here.
My #1 Top Recommended Extra Wide Recliner For Two Person Seat Sharing
Hogan Mocha Zero Wall Recliner with Wide Seat Box –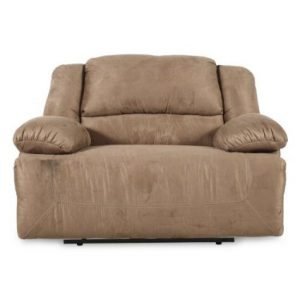 When researching these huge chairs I got really excited as my place is too small for one, however, I would love one of these so much.
So why did it get my #1 recommended pick. First of all, it is the size of the chair. The overall dimensions of this chair are a whopping 59″ width x 44″ depth x 41″ height. The seat dimensions are 28″ width x 24″ depth x 21″ height. This is a very big chair, large enough to fit two snuggled up adults in it.
Second of all, when it comes to extra large chairs, a down side is that they take up a lot of space, however, this problem can be reduced if the recliner is a wall hugger. What I love about this recliner is that you need almost no space between the wall and the back of the chair when you want to recline fully. Wall huggers are hard to come by, therefore, I am always pleased to find one. This recliner gets big bonus points for this feature.
Another feature I really like about this chair is the over size padding. An extra large chair wouldn't be much fun if it wasn't plush with padding. This recliner is over stuffed with padding to give that extra bit of comfort. Also, the beauty of this recliner is that there are zippers in the armrests. A common problem with padded chairs is that the stuffing can flatten out over time. Well, with these zippers you can stuff the armrests with extra padding when necessary.
The weight capacity of the recliner is unstated, however, a few customers commented that they weighed from 300 – 500 lbs (two people combined) and the chair supported them fine.
If you are looking for a plush, extra large, extra wide recliner chair, then I recommend the Hogan Mocha Zero Wall Recliner as my no.1 pick.
Details –
Color : Mocha
Overall dimensions : 59″ width x 44″ depth x 41″ height
Seat dimensions : 28″ width x 24″ depth x 21″ height
Weight : 136.8 lbs
Weight capacity : Unknown (possibly 300 lbs +)
Materials: polyester, metal, plastic, foam
Plush cushioning from high quality foam
Reclined footrest to floor 13 inches
Fully reclined length 68 inches
Distance between recliner and wall 3 inches
Zipper on armrests, if extra stuffing is needed
---
Best Tall Back And Wide Seat Recliner For Big And Tall People
Stallion Comfort King Chaise Wallsaver Recliner –
Lane Furniture are one of the most reputable recliner manufacturers in the USA. For decades they have been making top quality, heavy duty recliners. I chose the Stallion Recliner not because it is the widest chair but because it is an overall very large chair suitable for one person. It doesn't compare in width to the Hogan Mocha Recliner above, however, it is big enough for very large people.
The overall dimensions of the Stallion are 44″ width x 40″ depth x 48″ height. The seat dimensions are 25″ width x 21″ depth x 22″ height. Now if you compare the Stallion to the Hogan recliner above, you can see that it more than holds its own in the seat dimensions. In fact it has a higher back rest than the Hogan. The Stallion is reputed to be one of the longest recliners on the market at 79″ fully reclined ( the length of a king size bed). Therefore, if you are tall and big, the Stallion is perfect for you. However, if you are more wide than tall then the Hogan recliner above is more suitable.
Lane Furniture are famous for building heavy duty recliner chairs and the Stallion recliner is a prime example of their work, boasting a weight capacity of 500 lbs. Surely not many other companies can boast this weight limit.
With these two recliner reviews, we are blessed with wall hugging features. The Stallion recliner is a large sized chair, therefore, it is a great advantage to be able to place it next to a wall. Even when it is against the wall, it can fully recline into all its king size bed glory.
If you are looking for a tall back and wide seat recliner that is great for a big and tall person, then the Stallion Wall Saver Recliner by Lane Furniture is a great option for you.
Details –
Color : Tan
Overall dimensions : 44″ width x 40″ depth x 48″ height
Seat dimensions : 25″ width x 21″ depth x 22″ height
Weight : 169 lbs
Weight capacity 500 lbs
Full reclining length 79″ (size of king size mattress)
Wall saver
Heavily padded for comfort
Reinforced in high tension areas for added safety
Made in the USA
---
Best Fabric Extra Wide Recliner With Heat And Massage Features
Magnum Rocker Recliner – Catnapper –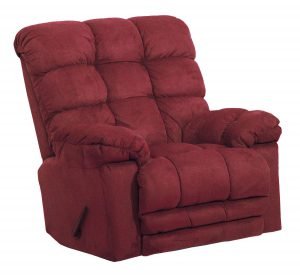 The Magnum Rocker Recliner is the smallest of the chairs I am reviewing, however, it is designed for 'Big Man' proportions so this recliner is definitely not small. Catnapper have been making quality, heavy duty recliners for decades, therefore, you can rest assured that this recliner is built to last.
First of all, lets compare the dimensions. The overall dimensions are 44″ depth x 48″ width x 46″ height. Seat dimensions are 20″ depth x 22″ width x 20″ height. As you can see the width of the recliners are getting a little smaller each time. This chair would still be considered large though.
One of the best features of this recliner is the heat and vibration options. How many recliners will warm your body up in the winter and give you a soothing massage while you watch your favorite TV show.
A great design feature of this recliner is the steel box on the inside. This 100% steel box provides added support to the chair, preventing splitting and warping.
The Catnapper also uses over 50 independently active coils per seat, providing uniform seating with added support and durability.
However, what I really like about this chair is the use of 100% Gel-Infused Memory Foam. I am a big fan of gel memory foam in mattresses and pillows, so finding it in a recliner really impressed me. This means you have the option of a cooling comfortable experience with the gel memory foam and a hot soothing experience with the heat and vibration. Perfect for Summer and Winter.
If you are looking for a Big Man size recliner that has heat, vibration and cooling gel memory foam, then the Catnapper Magnum Recliner is the one for you.
Details –
Color : Merlot
Material : fabric upholstery
Overall dimensions : 44″ depth x 48″ width x 46″ height
Seat dimensions : 20″ depth x 22″ width x 20″ height
Weight : 125 lbs
Weight capacity : 300 lbs
Heat and massage
100% steel seat box prevents warping and splitting
50 independently active coils per seat, for uniform comfort
Smooth and quiet operation
---