Best Heavy Duty Recliners For Big Men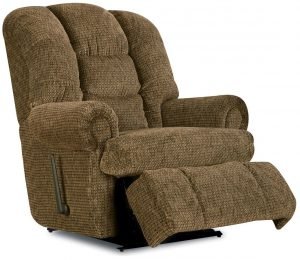 Big guys and girls need big chairs to relax in.  There is no point in investing in a regular size recliner if it will be too tight a fit for the person sitting in it.  Thankfully, there are some plus size recliners available online, and boy are they comfy.
What does a recliner need, to accommodate a large person?  Firstly, a large recliner should have an extra long back rest.  For the taller person, it is necessary to have a longer backrest to avoid uncomfortable neck ache.
Secondly, it is important to have extra long leg rests.  For shorter people, they take it as a given that there legs will rest nicely on top of the leg rest, however, tall people have no such guarantee.  Therefore, that extra length on the leg rest will go a long way to giving the tall person a more relaxing recline.
Thirdly, the recliner needs to be extra wide to accommodate an extra wide body.   For the larger individual, it is no fun having to squeeze between those narrow armrests.
Finally the recliner has to be strong enough to hold the added weight of a heavier person.  The materials and mechanics of the chair need to be heavy duty, allowing for large, obese or extra big people to recline back and relax with the comfort of knowing that their chair will not collapse or break under them.
Therefore, lets have a look at the best heavy duty recliner for big men, on the market today.
My No.1 Recommended Pick For Heavy Duty Recliners For Big Men And Extra Large People
Stallion Comfort King Chaise Wallsaver Recliner –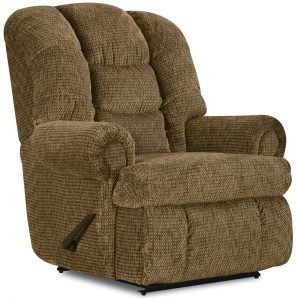 Lane Furniture has been making quality recliners for the American public since 1972.  They have a great reputation for manufacturing heavy duty recliners that are suitable for very large people.   The Stallion Comfort King Chaise Wallsaver Recliner is their poster recliner, and for good reason.  This recliner is very large, in fact, when this recliner is in a full recline position, it is the same length as a King Size bed (79″ in length)!  Since this huge recliner is as large as a bed, don't be surprised if you fall asleep on this comfortable recliner for sleeping.
From the floor to the top of the chair is a very high 48″.  The longer backrest is heaven for tall people, as it allows them to rest their neck and head while relaxing.
The width between the armrests is a wide 25″, which is a lot wider than the average recliner.  This extra width will provide a more roomy feeling for the wide individual, as it will give them a lot more space to move around.
What is more, the Stallion recliner has a weight capacity of 500 lbs.  This recliner is a strong heavy duty chair that will accommodate the heavy  person with ease.  And as it is built in America by a reputable company, you can rest assured that this chair is built to last.
One more feature that I absolutely love in a recliner is the wall hugging element.  This is a large recliner and can take up quite a bit of space in a room, however, the beauty of a wallsaver is that it can be stored almost fully against a wall.  Yes, this wall hugging recliner can be placed a couple of inches from the wall and still glide into a full recline without ever hitting or damaging the wall behind it.  All you need to do is pull on the lever at the side of the chair and sit back and relax into this extra large and extra comfortable recliner.
If you are looking for a very large and comfortable recliner with a wallsaving feature, then look no further than the Stallion King Comfort Chaise Wall Saver Recliner Chair by Lane Furniture.
Details :
American made and built to last
Full reclining length of 79″ (equal to a king size mattress)
Weight capacity of 500 lbs
Seat width 25″
48″ height
Wall saver : glides into a full recline without damaging the wall behind it
Heavily padded for comfort and support
Reinforced in high tension areas for added strength and safety