Best Electric Lift Chairs For The Elderly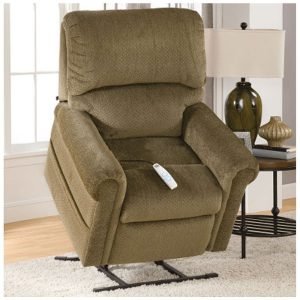 Standing up and sitting down can get more difficult as we age, so the assistance of a lift chair can be a very useful aid for the elderly. An electric lift chair is a motorized chair that slowly lifts the person to a standing position. It also gradually lowers the person into a sitting position. If a person is suffering from arthritic knees or is finding that using a chair is becoming more difficult, then a power lift chair can be a great asset to have.
In this article, I will be reviewing the best electric lift chairs for the elderly.
This page contains affiliate links. We hope you love the products we recommend but just so you know, if you purchase a product from one of our links below, we may receive a small commission. Details here.
My Top Recommended Power Lift Reclining Chair For Seniors
Serta Perfect Lift Chair Plush Comfort Recliner w/ Gel-Infused Foam Relieves Key Body Pressure Points –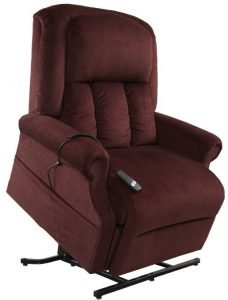 When choosing a recliner that best fits the needs of an elderly person, I chose qualities such as comfort, safety and reliability. For me, the Serta Comfort Lift Recliner has got all of this and more.
When any product has memory foam in it, I know that it is going to be comfortable and has won me over already. Individually wrapped springs underneath the foam provides a balanced support. However, it is the premium infused gel memory foam that provides all the comfort as it conforms to your body shape. Not only does it help you relax but it also helps relieve pressure points on the arms, wrists, thighs, calves and ankles.
All this comfort is wrapped in premium, heavy duty fabric allowing you to enjoy this recliner for years to come. For people suffering from spinal issues like bulging discs or any general back pain, a memory foam recliner is definitely worth considering.
If you have never experienced a power lift chair then you will not know how valuable they are. Especially, for someone suffering from painful knees, hips and back. The older one gets, generally the weaker one's legs become. Everyday tasks such as sitting down or standing up can take quite some effort and even cause pain.
At the touch of a button, the power lift mechanism in the Serta recliner will make the task so much easier. It will glide forward to meet you at an almost standing position. It will then move smoothly back into a seated position. When the user wants to stand up, the chair will slowly push forward to an angle and place the user in a standing position. No straining necessary and fantastic on the knees.
This is not forgetting the reclining motion which is also great for people suffering from painful backs. By gliding back into a reclined position, a lot of strain is taken off the lower spine. This will relieve spinal pressure and reduce aches and pains of the lumbar region.
You should never worry that you will get stuck on the chair in the recline position (for example maybe there will be a power outage when you are relaxing or sleeping on the chair). The Serta recliner has a back up battery specially designed to switch on when their is a power failure.
Another feature I really like is the easy to use remote control with two LED lights. These lights will help guide the user and make controlling the movements even easier. For people that like to use their phones or ipads while sitting on a recliner, this chair has a USB port on the remote control for easy charging.
The Serta Comfort Lift Recliner is made from premium materials and is considered a medical device. The recliner's frame and recliner mechanisms have a lifetime warranty, it's electric motors are covered for 5 years and the chair itself has a 2 year warranty.
If you would like to see the price on Amazon and also read some of the reviews by customers then follow this link to the Serta Perfect Lift Chair Plush Comfort Recliner.
Details :
Colors : Forrest, Ocean & Chocolate
Weight capacity : 375 lbs
Medical device
Memory foam cushion that conforms to body shape and helps relieve pressure points
Micro support gel for added support and cooling effect
Recline and power lift feature
Easy to use remote control with LED lights
Remote control has USB port to charge phones and ipads
Premium grade materials, built to last
Frame and recline mechanism : lifetime warranty
Electric motors : 5 year warranty
Recliner : 2 year warranty
Free shipping
Serta Perfect Lift Chair Plush Comfort Recliner w/ Gel-Infused Foam Relieves Key Body Pressure Points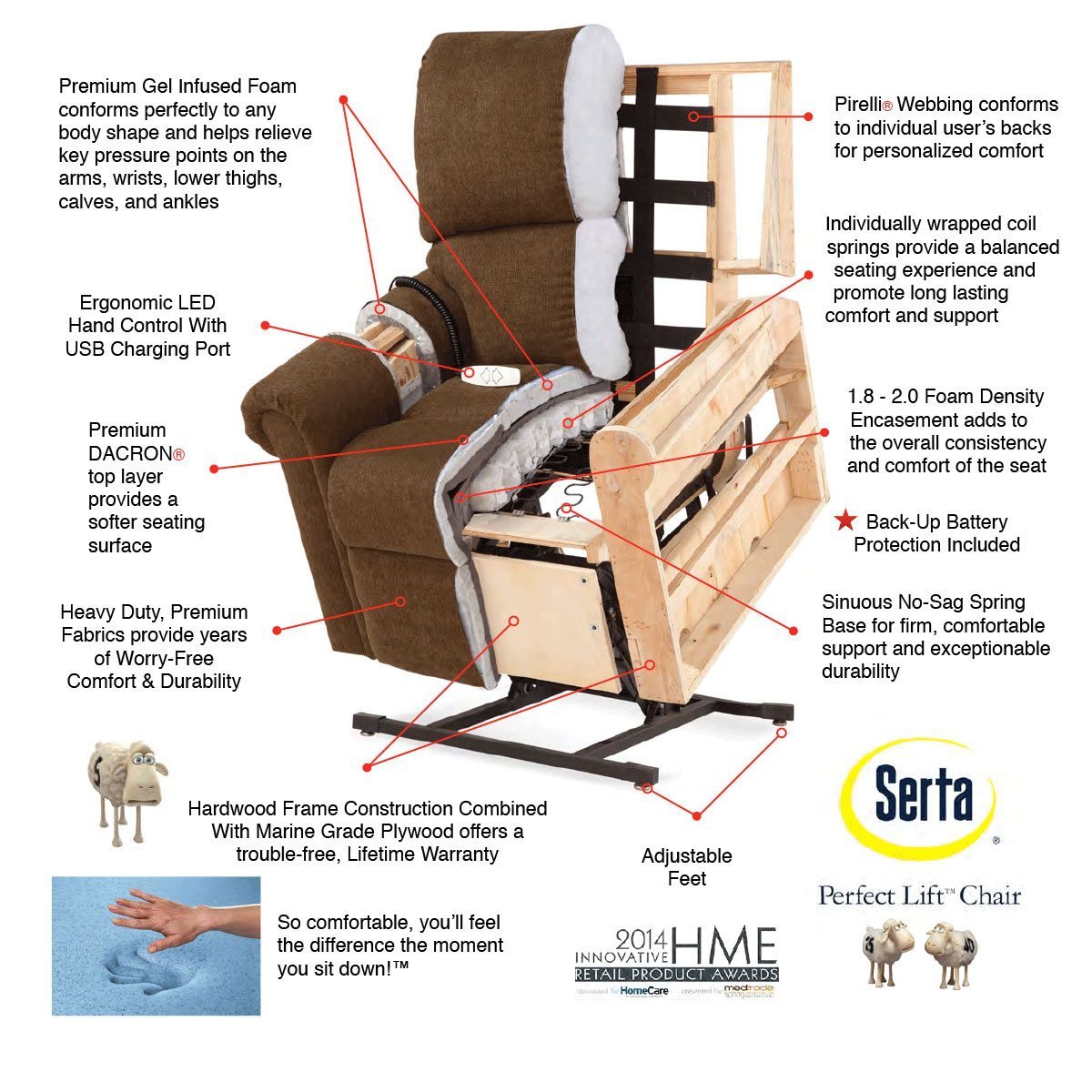 ---