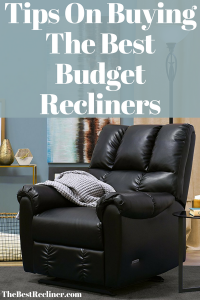 Even though the first recliner in history was recorded in France in 1880s, the first patented recliner in America was manufactured in the 1920s. I am not sure how budget friendly they were back then but as with most innovative pieces of technology and furniture, they were probably very expensive and not available to the masses.
As decades progressed, the recliner has become more mainstream with many competitors building their own brands. Now, a recliner has become an almost essential part of every home and are as popular as the humble armchair. Fortunately, due to so many options and brands, recliners are available to suit all budgets.
In this article, I will be looking at some tips on buying the best budget recliners available online. Sure, there are awesome recliners priced in the thousands of dollars, however we are looking at how to get the best bang for your buck. We want to find budget recliners that are not only affordable, but good quality also.
Used or New
Of course the vast majority of people will want to buy everything new, however if you are a bargain hunter, then a used recliner should definitely be considered. Just because a recliner has been used doesn't mean it will be in bad condition. A person may have got an extra recliner and wants to get rid of one. They may also have barely used the recliner. People selling used recliners, usually sell them as good as new, so the used option shouldn't be ignored. When reviewing these bargain recliners here, I noticed that there were both used and new recliners available in some of the reviews and the used options could save the buyer a nice percentage of money.
Fabric
When people are buying a sofa, armchair or recliner, leather is a popular choice. Leather is expensive and it will not be available on budget recliners. Some advertisers might say that it is a leather recliner, however it will be faux leather for sure. For those that reject PU leather, then they really shouldn't. On some good quality cheap recliners, the PU leather looks very realistic and is easy to keep clean. Faux leather is not porous so it won't absorb fluids and stains as much as leather, making it easier to keep clean. Another popular material used on budget recliners is microfiber. Once more, this material is easy to keep clean with a damp cloth and can be soft and comfortable to the touch.
Features
Usually a big selling point for expensive recliners are the many essential features they provide. Massage, heating, zero gravity, power recliners and much more. Basically, if you want a recliner with some or all of these types of features, then you will have to pay a little more to a lot more. Budget recliners will be on the basic side. A budget recliner under $200 will most likely be a manual recliner that needs to be pushed back with a little bit more effort than a recliner with a lever. That being said, it shouldn't be a big deal. Unless this effort will cause pain, then it shouldn't be a deal breaker.
Comfort
Of course, a cheap recliner won't be as comfortable as the more expensive option, however from my reviews and reading reviews from satisfied customers, there most certainly are comfortable recliner chairs available on a budget. When buying a recliner online, testing the recliner before you buy is not an option, however, this is why it is good to to read other people's experiences with that particular recliner, before you buy. The recliner should be well padded and comfortable enough for relaxing and sleeping on. Sure, some recliners will be firmer than others, but this can also be the style of that particular recliner and nothing to do with the price or quality.
Warranty
All recliners should have a warranty of at least 1 year, so make sure to keep note of the date. If the recliner breaks or before the end of the warranty, then you should be able to get a replacement. A recliner should last several years and sometimes cheaper ones last longer than more expensive ones.
Conclusion
I am a firm believer in you get what you pay for. More likely than not a more expensive recliner should be better than the cheaper option. That being said, you can still get a good quality recliner for a very reasonable price. When reviewing some fantastic recliners for under $200, I was really happy to see that there was a choice of great quality recliners for affordable prices available online. If you don't have the budget for a medium to high end recliner, don't worry. There are definitely some high quality recliners available at low end prices.