Top 3 Best Recliners For Big and Tall People
As we all come in different sizes, it makes sense that recliner companies manufacture recliner chairs in various sizes.  If you live in a household with family height and weight differences, at least a smaller person can sit comfortably in a large recliner chair.  However, there is no way a tall or heavy person can sit comfortably in a petite sized recliner.
Therefore, I have searched around to find the best recliners available for large people.  What are we looking for in a large recliner?
Well it is important to have a long back rest.  There is nothing worse than not being able to rest your neck on the back rest if your spine is too long for the chair.
Secondly, the leg rest needs to be long enough to accommodate your long legs.  Once again, it is not very comfortable to have your feet and lower legs hanging over the edge of the foot rest.
Thirdly, the chair has to be wide enough to fit broad people.  This wideness needs to be in the back rest area and the seat area.  Squeezing into a chair might be cosy but it is not ideal.  A recliner should be large enough to accommodate the whole body and be spacious and comfortable enough to sleep on.
And finally, the recliner has to be heavy duty enough to accommodate the weight of plus sized people.  This shouldn't be a problem as there are plenty of recliner chairs available to accommodate the larger person.
My #1 Recommended Pick Heavy Duty Recliner For Big, Tall, Large and Heavy People
Stallion Comfort King Chaise Wallsaver Recliner –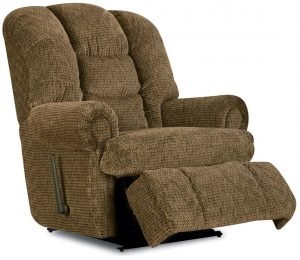 This Stallion Comfort King Chaise Recliner is manufactured by Lane Furniture.  Lane Furniture has been making reclining chairs for Americans since 1972 and has built a reputation for making solid, durable and heavy duty recliner chairs.  I believe that the Stallion Comfort King is the largest chair on the market.  In fact, the company boasts that when the Stallion Comfort King is in the full recline position, it is the length of a king size bed at a whopping 79″.
Yes, the Stallion is designed for the larger individual and it certainly is designed well.  For tall people this recliner is a match made in heaven.  At 48″ in height, this chair looks down on any big recliner on the market and when in a recline position reviews from customers up to 6'5″ in height stated that the recliner accommodates their height quite comfortably.  The tall back rest is also great for allowing the taller individual the ability to rest their head.
For the heavier person the Stallion Comfort King Recliner supports up to 500 lbs.  This is a heavy duty, sturdy American built chair that is great for accommodating larger people.  The chair is also 25″ wide which is quite roomy.
One feature I really love in a recliner is wall hugging.  This chair is a large chair and it does need a bit of room, however, it is a wall saver which is great for saving space.  A wall saver can be stored almost completely against a wall and still recline fully because it will glide it's way down without hitting the wall.  This is wonderful for not only preventing any damage to the wall but also because you won't have to move the heavy chair away from the wall every time you want to use the recline option or push it back when you are finished.
This chair was built for the larger person and is heavily padded for comfort.  It has been constructed with heavy duty materials to hold a weight up to 500 lbs with high tension areas reinforced for added safety.  It is also built for the tall individual even in a full recline position.
If you are big and tall, then I highly recommend my #1 recommended pick, the Stallion King Comfort Chaise Wall Saver Recliner Chair by Lane Furniture.
Details –
Weight capacity 500 lbs
Full reclining position of 79″ (size of king size mattress)
Seat width 25″
48″ tall, a match for any large recliner
Wall saver
Heavily padded for comfort
Reinforced in high tension areas for added safety
Made in USA
---
Best Power Recliner For Plus Sized People
Mega Motion Easy Comfort Superior – Heavy Duty Lift Chair –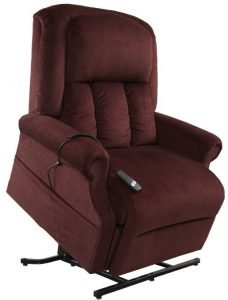 The Mega Motion Easy Comfort Superior Recliner is not as great for the tall person as the Stallion Comfort King above, however, it is still a large chair that will accommodate people over 6′.  However, for the heavy person it definitely is a recliner to be considered.
This recliner is also built for a weight capacity of 500 lbs, however, the beauty of this recliner is that is has the ability to help a person on and off the seat.  With the touch of a button this power recliner will angle forward, helping the person up, which can be a great aid for the heavier individual.  The electric motor not only eases into the recline position but also guides the person to a standing position, ideal for those finding it difficult to get out of the chair.
A really great feature I like about this recliner is the emergency backup battery mechanism.  If there is a power outage and you are in the recline position, the emergency battery will turn on and allow you to get out of the recline and up and out of the chair.  A really nice safety mechanism indeed.
Compared to the Stallion Comfort King, what the Mega Motion lacks in height it makes up for in width.  The seat width between the arm rests is 27″, making this chair ideal for the wider person more than the taller person.
The Mega Motion Power Recliner is a Heavy Duty steel and hardwood framed recliner that is great for the overweight person.
Details –
500 lbs. maximum lift capacity
3 position (electric lift and recline)
Furniture grade hardwood/plywood construction
Heavy duty steel lift mechanism
Ergonomic push button control wand
Integrated battery emergency backup
Warranty: 1 year in home service
Lifetime warranty on steel frame
---
 Another Great Heavy Duty Recliner For Big and Tall People
Catnapper Omni Power Lift Recliner –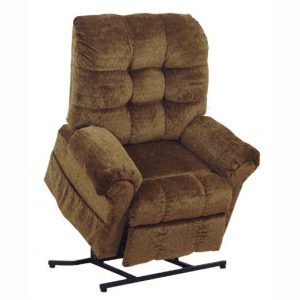 The Catnapper Omni Power Lift Recliner is another heavy duty, sturdily built American made recliner that is built to last.  It is an extra large recliner that has a weight capacity of 450 lbs.  Not only is it big and strong but it also has 50 coil springs to give uniform comfort and support.
As with all power recliners, they are great for those that need a little helping hand to get up from chairs.  This Catnapper seamlessly transitions from recline to power lift at a touch of a button.  The safety mechanism of an emergency battery back up is a great feature that allows you to feel safe and secure that if there is a power failure, the battery will kick in and not leave you lying in a recline position until the power comes back.  However, the battery is not rechargeable and you will need to provide your own replaceable batteries inside the chair.
The Catnapper has a seat height of 21″, not as high as the Stallion, however, larger than the average size recliner.
The Catnapper company likes to define their recliners as 'Designed for Comfort and Built to Last', therefore, if you are looking for a heavy duty power recliner for comfort and durability, then definitely consider the Catnapper Omni Power Lift Recliner.
Details –
Colors : Black Pearl, Chianti, Havana, Saddle or Thistle
Weight capacity 450 lbs
21″ back rest
25″ width between the armrests
Plush pad roll arm
50 coil seating for uniform comfort and support

Fire retardant heavy duty fabrics 

Time tested lift mechanism works in sync with motor to deliver multi-positioned seating

Power lift to help you off the seat
Emergency battery back up mechanism in case of power failure
Non rechargeable batteries.  Batteries not provided
Made in the USA
---