If you live in a household with family height and weight differences, at least a smaller person can sit comfortably in a large recliner chair. However, there is no way a tall or heavy person can sit comfortably in a petite sized recliner. As we all come in different shapes and sizes, it makes sense that recliner companies manufacture recliner chairs suitable for all sizes. In this article, you will find my Top 6 Oversized Recliners for Big and Tall People.
Important Features to Look Out for when Searching for an Extra Large Recliner –
Firstly, it is important to have a long back rest. There is nothing worse than being unable to rest your neck on the back rest, therefore some extra back rest height is important to accommodate a long upper body.
Secondly, a long leg rest is necessary to accommodate long legs. Once again, it is not very comfortable to have your feet and lower legs hanging over the edge of the foot rest.
Thirdly, the chair has to be wide enough to fit broad body sizes. This extra width needs to be in both the back rest area and the seat area. Squeezing into a chair might be cosy but it is not ideal. A recliner should be large enough to accommodate the whole body and be spacious and comfortable enough to sleep on.
And finally, the recliner has to be heavy duty enough to accommodate the weight of plus sized people. This shouldn't be a problem as there are plenty of recliner chairs available to accommodate the larger person.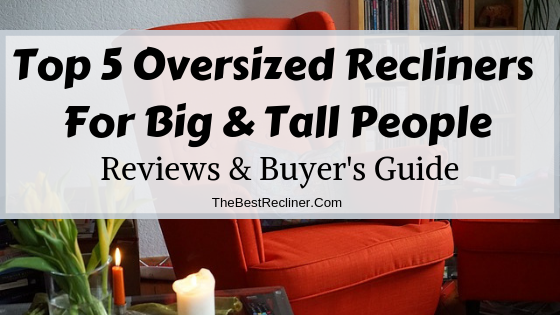 This page contains affiliate links. We hope you love the products we recommend but just so you know, if you purchase a product from one of our links below, we may receive a small commission. Details here.
My #1 Recommended Pick Heavy Duty Oversized Recliner Chairs For Big, Tall, Large and Heavy People – 500 Weight Capacity
Stallion Comfort King Chaise Wallsaver Oversized Recliner –
This Stallion Comfort King Chaise Oversized Recliner is manufactured by Lane Furniture. Lane Furniture has been making reclining chairs for the American public since 1972 and has built an impressive reputation for making comfortable, solid and durable heavy duty recliner chairs.
The Length of a King Size Bed!
I believe that the Stallion Comfort King is the largest chair on the market. In fact, the company boasts that when the Stallion Comfort King is in the full recline position, it is the length of a king size bed at a Whopping 79″.
Yes, the Stallion is designed for the larger individual and it certainly is designed well. For tall people this recliner is a match made in heaven.
At 48″ in height, this chair looks down on any big recliner on the market and when in a recline position reviews from customers up to 6'5″ in height stated that the recliner accommodates their height quite comfortably. The tall back rest is also great for allowing the taller individual the ability to rest their head.
Has a Weight Capacity of 500 lbs
For the heavier person, the Stallion Comfort King Oversized Recliner supports up to 500 lbs. This is a Heavy Duty, sturdy American built chair that is great for accommodating larger people. The chair is also 25″ wide which is quite roomy.
Wall Hugger Feature
One feature I really love in a recliner is wall hugging. This chair is a large chair and it does need a bit of room, however, it is a wall saver which is great for saving space. A wall saver can be stored almost completely against a wall and still recline to its full capacity because it will glide it's way down without hitting the wall.
This is wonderful for not only preventing any damage to the wall but also because you won't have to move the heavy chair away from the wall every time you want to use the recline option or push it back when you are finished.
This chair was built for the larger person and is heavily padded for comfort. It has been constructed with heavy duty materials to hold a weight up to 500 lbs with high tension areas reinforced for added safety. It is also built for the tall individual even in a full recline position.
Ideal For Big and Tall People
If you are a big and tall person, then I highly recommend my #1 recommended pick, this Stallion King Oversized Recliner Chair by Lane Furniture.
Details –
Weight capacity 500 lbs
Full reclining position of 79″ (size of king size mattress)
Seat width 25″
48″ tall, a match for any large recliner
Wall saver
Heavily padded for comfort
Reinforced in high tension areas for added safety
Made in USA
---
Best Oversized Power Recliner Chair For Plus Sized People – Heavy Duty 500 lbs Weight Capacity
Mega Motion Easy Comfort Superior – Heavy Duty Oversized Recliner Lift Chair
The Mega Motion Easy Comfort Superior Oversized Recliner is not as great for the tall person as the Stallion Comfort King above, however, it is still a large chair that will accommodate people over 6′. However, for the heavy person it definitely is a recliner to be considered.
Heavy Duty 500 lbs Weight Capacity
This recliner is also built for a weight capacity of 500 lbs, however, the beauty of this recliner is that is has the ability to help a person on and off the seat. With the touch of a button this power recliner will angle forward, helping the person up, which can be a great aid for the heavier individual.
The electric motor not only eases into the recline position but also guides the person to a standing position, ideal for those finding it difficult to get out of the chair.
A really great feature I like about this recliner is the emergency backup battery mechanism. If there is a power outage and you are in the recline position, the emergency battery will turn on and allow you to get out of the recline and up and out of the chair. A really nice safety mechanism indeed.
Extra Wide 27″ Between Armrests
Compared to the Stallion Comfort King, what the Mega Motion lacks in height it makes up for in width. The seat width between the arm rests is 27″, making this chair ideal for the wider person more than the taller person.
The Mega Motion Oversized Power Recliner is a Heavy Duty steel and hardwood framed recliner that is great for the overweight person.
Details –
500 lbs. maximum lift capacity
3 position (electric lift and recline)
Furniture grade hardwood/plywood construction
Heavy duty steel lift mechanism
Ergonomic push button control wand
Integrated battery emergency backup
Warranty: 1 year in home service
Lifetime warranty on steel frame
---
Oversized Electric Lift Recliner Big Man Chair – Heavy Duty 450 lbs Weight Capacity
Catnapper Omni Power Lift Oversized Recliner –
The Catnapper Omni Power Lift Oversized Recliner is another heavy duty, sturdily built American made recliner that is built to last.
450 lbs Weight Limit
It is an extra large recliner that has a weight capacity of an impressive 450 lbs. Not only is it big and strong but it also has 50 coil springs to give uniform comfort and support.
As with all power recliners, they are great for those that need a little helping hand to get up from chairs. This Catnapper seamlessly transitions from recline to power lift at a touch of a button.
The safety mechanism of an emergency battery back up is a great feature that allows you to feel safe and secure that if there is ever a power failure, the battery will kick in and not leave you lying in a recline position until the power comes back. However, the battery is not rechargeable and you will need to provide your own replaceable batteries inside the chair.
The Catnapper has a seat height of 21″, not as high as the Stallion, however, larger than the average size recliner.
The Catnapper company likes to define their recliners as 'Designed for Comfort and Built to Last', therefore, if you are looking for a heavy duty power recliner for comfort and durability, then definitely consider the Catnapper Omni Power Lift Oversized Recliner.
Details –
Colors : Black Pearl, Chianti, Havana, Saddle or Thistle
Weight capacity 450 lbs
21″ back rest
25″ width between the armrests
Plush pad roll arm
50 coil seating for uniform comfort and support

Fire retardant heavy duty fabrics

Time tested lift mechanism works in sync with motor to deliver multi-positioned seating

Power lift to help you off the seat
Emergency battery back up mechanism in case of power failure
Non rechargeable batteries. Batteries not provided
Made in the USA
---
Oversized Wall Hugger Large Recliner With Extra Width – 300 lbs Weight Capacity
Ashley Furniture Signature Design – Hogan Oversized Recliner – Mocha
When it comes to extra wide oversized recliners, the Ashley Furniture Signature Design – Hogan wins hands down.
Oversized Recliner – 28″ Between Armrests
From side to side, this recliner measures 59″, so make sure you have the necessary space for it. The seat width measures an impressive 28″ between armrests. In fact, this recliner will have similar measurements to a love-seat, so two smaller people or an adult and kids or pets should fit nice and cozy in this very big chair.
With its contemporary look and soft, comfortable microfiber texture, it not only looks plush and modern but it also very inviting.
Zero Wall Hugger Recliner
We know that oversized recliners are going to take up a lot of space. Therefore, what I really like about the Hogan Oversize recliner is that it is a zero wall recliner. What is a zero wall recliner, I hear you say? It is a recliner that can be set almost fully against a wall and still recline back.
Most wall huggers need at least 6″ space between the back of the recliner and the wall to allow enough space to fully recline, however this recliner needs almost zero space to glide into an almost flat position. In fact, if you are looking for a big man sleeper recliner, then this one is a great option.
300 lbs Weight Capacity
The Ashley Design – Hogan is very close to my no.1 pick, except for one thing. Its weight capacity is only around 300 lbs. As an oversized recliner, it looks amazing, is very comfortable, is a space saver and is big enough to accommodate the widest of people, however it just doesn't have the weight capacity of some of the other heavy duty big man chairs, like the Lane Furniture Stallion above (500lb capacity).
That being said, if you want an extra large recliner chair in your living room and do not need much more than 300lbs weight capacity, then this fantastically oversized recliner chair by Ashley Furniture is a great option for you.
Details –
Color: Mocha
Dimensions: Width: 59″, Depth: 44″, Height: 41″
Weight capacity: 300 lbs
28″ width between armrests
Distance between recliner and wall: 3″
Fully reclined length: 68″
Seat depth: 24″
Seat height: 21″
High-resiliency foam cushion wrapped in thick poly fiber
Polyester upholstery
Corner-blocked frame with metal reinforced seat
Pull tab reclining motion
Light assembly required
---
Best Oversized Rocker Recliner – 300 lbs Weight Capacity
Sophie Three Position Oversized Rocker Recliner by
RevoluXion
This large size recliner by RevoluXion not only looks great but doesn't disappoint comfort-wise also. It has a soft but firm feel to it and just enough padding for support without that sinking in feeling.
Extra Long Backrest 29″
What really caught my eye with this recliner is the extra long back that measures 29″ from seat to the top of the headrest. Excellent for head support when taking a nap or watching TV.
Can Rock and Swivel
This is a rocker recliner that can also swivel, so ideal for relaxing and also perfect for nursing mothers. It is a manual recliner that has 3 different recline positions to choose from.
300 lbs Weight Capacity
Once again, this recliner only has a weight capacity of 300 lbs, therefore may not be the best option for very heavy people. If you are much heavier than this, I am sure that this sturdy recliner will handle your weight however long term, the extra weight might shorten the lifespan of the chair.
The recliner comes almost fully assembled. Just slide the top part into the bottom part and it is ready for use.
Comfort-wise, this large recliner is hard to beat and it certainly looks great as well. It is quite a large recliner, especially in the backrest area but not as heavy duty as some of the big man chairs. If you are not too heavy, I am sure you won't be disappointed with this comfortable large recliner by RevoluXion.
Details –
Color: Gray
Weight capacity: 300 lbs
Dimensions:

41.5″ Width x 43″ Depth x 44.25″ Height

Seat height: 29″
Seat width: 24″
And Seat depth: 22″
Soft velvety fabric
Wood frame
3 recline positions
Manual control
Rocker
Simple to assemble – No tools necessary
Sophie Three Position Rocker Recliner by RevoluXion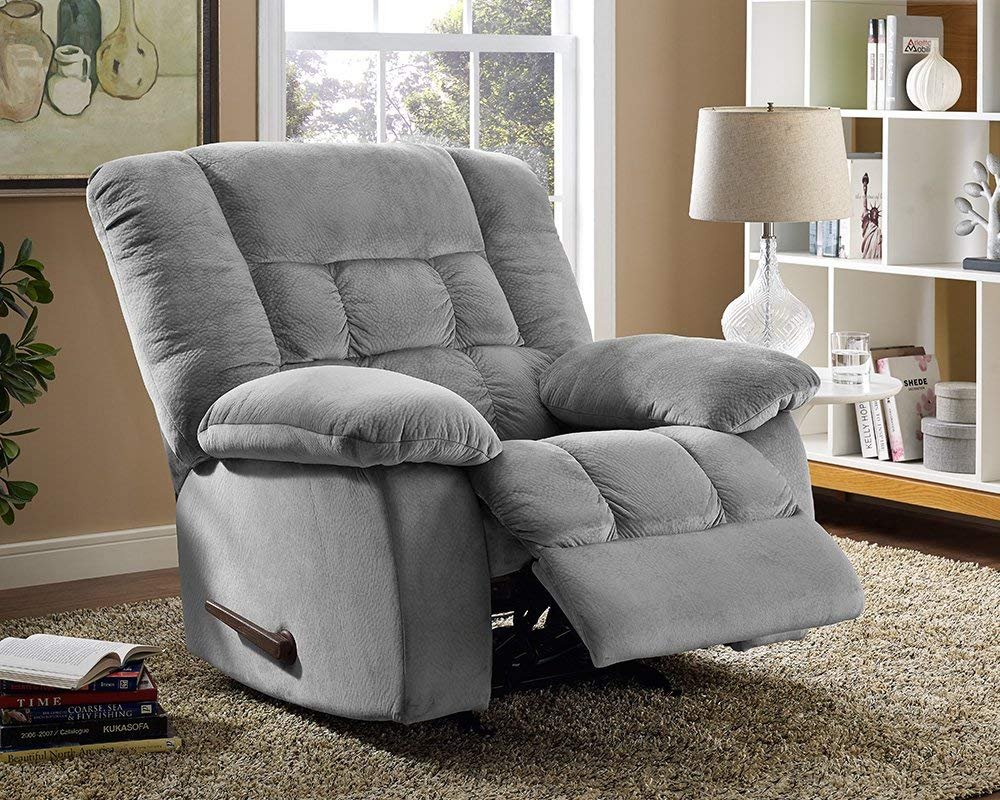 Big Man Recliner – Have You Thought Of A Cuddler?
Simmons Upholstery Phoenix Mocha Cuddler Recliner
When a big man is searching for a recliner, he needs a spacious, larger than normal chair. Sometimes finding a chair that has enough room for a plus sized individual can be difficult.
A Cuddler for a Big and Tall Person?
However, have you ever thought about trying a cuddler? A cuddler is a chair made for two slim to average size people. However, that doesn't mean it wouldn't be perfect for a big person also.
Extra Wide Seat
Well the Pheonix Mocha Cuddler Recliner by Simmons Upholstery is a great option if you are looking for an extra wide recliner to relax in. Big and tall recliners are not easy to come by, but this chair is a great option.
Made of super-soft distressed bomber jacket PU upholstery, it is very soft to the touch. The interior has beautyrest pocketed coil seating, providing a supportive but comfortable seat. The upholstery is a lovely Mocha color that will blend in with many decors.
Easy to Remove Backrest
It is very simple to install, just slide and connect the backrest to the seat. This is also a very handy feature. If you ever want to move it to another room, you can remove the backrest again, which will make moving and placing that much easier.
300 lbs Weight Capacity?
Now on to size an weight capacity. The weight capacity isn't stated but some reviewers reckon it should hold 300 to 350 lbs. Well this recliner is a cuddler, so if it can handle two average size people, then it should handle a 300 lbs person easy enough.
Ideal for Big Person – 28″ Between Armrests
Its overall measurements are 50″W x 42″D x 39″H so it is extra wide (measures 28″ between armrests) but not as long as other recliners above. However, it should be fine for a 6 foot person, maybe a little taller. If you are very tall, then the Lane Stallion above is always the best option.
If there is one small complaint, it can be a little difficult to close from a recline position. This may loosen up after use, however it may be challenging for a weak or elderly person to have enough strength to push the footrest down, to get the recliner to return to an upright position.
Details –
Dimensions: 50″W x 42″D x 39″H
Sturdy wood frame
Distressed bomber jacket PU upholstery
Color: Mocha
Beautyrest pocketed coil seating
Latch-activated recline feature
Ideal for big individuals that need extra wide seating
Made in the USA
Simmons Phoenix Mocha Cuddler Recliner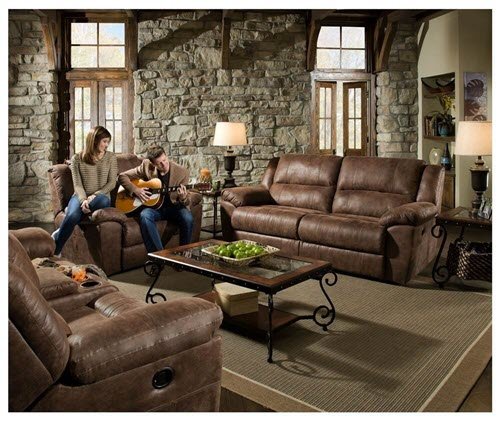 ---
Checklist For Buying an Oversized Recliner For Big And Tall People
Recliners are not the cheapest of furniture and should always be thought of as an investment. A good quality recliner should last you several years, therefore buying the most suitable chair for your needs and for your home is very important. Check out this checklist before making that purchase:
What type of oversized recliner are you looking for?

Yes, you want a large recliner but what type of oversized recliner do you want. Recliners come with different features, such as wall huggers, power lift, rocker, swivel and massage. Consider which features are necessary for you before buying, as these extra features will affect the price of the recliner. Have a look at the description of each feature below and see if each feature is necessary for you.

What is your Budget?

As said above, the more features a recliner has, the more expensive it will be. Now you must also take into consideration that the larger a recliner is, the pricier it will generally be. This is why it is especially important to get a good quality recliner that is built to last. A recliner from a reputable brand with many positive reviews is a good start. Hopefully you will get your money's worth by having a comfortable recliner that will be your favorite chair for many years to come.

What is your room size?

Do you have enough free space for a large recliner? An oversized recliner needs an oversized room. Make sure to measure the space you plan to put the recliner and also the extra space needed when the recliner is fully reclined. Remember the measurements of my No.1 recommendation, the Stallion by Lane Furniture? 79″ long when fully flat, the length of a King Size bed. That is pretty long and will need plenty of room space to accommodate it. Make sure to measure before you purchase. The last thing you want is to have that awesome and comfortable big recliner sitting in your living room and not having enough space to enjoy it.

What size chair dimensions do you need?

This one should be an obvious consideration. As I said at the beginning of this article, we all come in different shapes and sizes and not every big person has the same needs. If you are a tall but thin person, then length is your priority and width and weight capacity is not so important. However, if you are not so tall but very heavy then width is more important than height and length. If you are a very tall and heavy person, then you definitely need a big man chair. Good height and width, plenty of length when in a recline and built strong and sturdy with a high weight capacity.

What type of fabric upholstery would you like?

Leather upholstery used to be the no.1 choice for recliners before, however times are changing. Now many people are choosing non leather recliners. Some of the pros of non leather recliners are : Non leather upholstery is cheaper than leather, microfiber is easy to maintain and keep clean, they look just as good as real leather and they are just as comfortable. All you need to do is choose the right color to match your decor and the fabric should look very inviting.
Types Of Oversized Recliners For Big And Tall People
Extra Large Wall Huggers –

A recliner is a luxury piece of furniture. Normally it does not come as part of a suite of furniture, therefore it is an extra chair that will need its own space. A recliner also needs extra surrounding space when it is stretched out in a reclined position. When fully reclined, an oversized recliner can be the length of a large bed.

Furthermore, It can be a nuisance to pull out when you want to use it and don't want it to hit the wall behind. A wall hugger is a fantastic space saving feature that allows you to glide into a fully reclined position without hitting the wall behind. All you will need is as little as 3″ of space between the back of the recliner and the wall behind it.

The wall hugger feature is not only convenient, great for saving space but also great for protecting the wall behind.

Heavy Duty Rocker and Swivel Recliners –

Who doesn't like the traditional rocker. The way it allows you to rock back and forth, making you relax and drift into a meditative feeling or even a nap. One issue I have with the traditional rocking chair is that they are normally wooden and can be a little hard.

However, a rocker recliner has all the benefits of a rocking chair, but with the comfort of your favorite arm chair. Heavy Duty rocker recliners can rock you off to sleep in not only a cushioned seat but also at different recline angles of your choice.

Generally, a rocker recliner has a swivel feature that allows you to swivel around 360°. These two features are especially good for nursing mothers. Using a rocker recliner can be a wonderful way to relax your baby. The rocking motion can send mother and baby off into a deep sleep.

The swivel feature allows mother to reach for easy to reach objects anywhere within reach at 360°. No need to stand up and disturb baby if you need something behind your recliner. Just swivel and reach.

Heavy Duty Power lift Recliners –

Power lift recliners have a wonderful feature that allows people with difficulties standing up and sitting down to easily sit and stand without the need to over bend their knees. By pressing a button the electric recliner will slowly ease forward and meet the user at an angle. As the user sits on the recliner, another press of a button allows them to ease back into a sitting position and then into a recline position.

When you want to stand up again, the same procedure will push the chair up to the same forward angle. It will ease you into a standing position with little to no effort. Power recliners are wonderful chairs and are fantastic for people with disabilities. The elderly and people recovering from knee or hip surgery can also benefit from a power recliner.

Oversized Heat and Massage Recliners –

This feature is definitely a luxury one. However, if you would like your chair to heat up your stiff muscles and you want some soothing vibrations to ease your aches and pains after a long day, then this type of recliner could definitely be what you need.

Oversized massage recliners can be a little on the expensive side, however some people swear by them. The heat feature can be a wonderful benefit for cold winter evenings. Also, the vibrations and rolling balls inside the chair are extremely soothing and relaxing.

As I said, it is a luxury feature but some people love having a massage at the touch of a button. It is like having a Spa in your own living room.
How Will You Benefit From An Oversized Recliner
Oversized recliners may be a little more expensive than the smaller version and they will definitely take up more valuable space in your living room. However, these two negatives pale in comparison to how a big and tall person can benefit from owning a large recliner. Here are just a few of those benefits:
Oversized Recliners are made for Large People –

This is obvious however it takes a large person to know how great it feels to find a chair that perfectly accommodates their large frame. People with large hips do not like having to squeeze into a narrow seat. Tall people don't like their legs hanging over a recliner footrest.

They also don't like not being able to rest their head on the headrest because it is way to low for them. Heavy people don't like worrying about breaking a chair when they sit on it. A large enough chair to accommodate some or all of these body types is something to be appreciated and an oversized recliner and big man chair is just what is necessary.

Oversized Recliners are great for Sleeping on –

If you have difficulties sleeping in a bed or your regular armchair is too upright, then a sleeper recliner could be just what you are looking for. The beauty of an oversized recliner is that it allows you enough space to find your ideal sleeping position.

It is long enough to rest the longest of legs and torsos, comfortably. Trying to get comfortable on a recliner that is too small for you isn't much fun. However, if you want a deep sleep or daytime nap, then an oversized recliner is definitely the way to go.

Oversized Recliners will help Improve Blood Flow –

Sitting down for long periods of time is never a great idea and over the long term it can become a health risk. Regular movement is good for the health. However, if you need to sit down, then compared to a regular chair, a recliner is definitely the lesser of the two evils.

A recliner raises legs to near and sometimes above the heart level, improving blood flow throughout the legs and body.

Oversized Recliners will Help Take the Weight Off your Back –

If you suffer from back or joint pain, then taking the weight off your feet can be very helpful. Sitting down on an upright chair will only take so much weight off of your spine. However, reclining back on a recliner will relieve a whole lot more pressure.

Lying down on a bed can have similar benefits, however it is not always appropriate or convenient to lie on a bed throughout the day. Using your oversized recliner to lie back, read a book, take a nap or watch TV is a great way to unwind.

It will not only take the weight off your back but also take the pressure off of your knees and feet.

Different Types of Oversized Recliners – Wonderful Extra Features Available –

As described in the different types of recliners above, many oversized recliners come with certain features that will benefit you and your surroundings. The basic wall hugging feature is a fantastic space saver. The wall hugger feature helps to limit the area an oversized recliner will need in your living room.

Power lift recliners are great for people with disabilities, the elderly or people recovering from surgery. If you find it difficult to stand up or sit down unassisted, then a large power lift recliner is a great piece of furniture. It can make life a whole lot easier and give people a lot more independence.

Finally, if you want to treat yourself to some TLC, then a rocker recliner is great for unwinding and relaxing. Or even better again, a massage recliner that will heat your muscles in the winter time and vibrate your aches and pains away with a soothing spa-like massage.
As you can see, oversized recliners are not only great for accommodating a large frame more comfortably, but they also have many great benefits for your health and relaxation.
Final Thoughts on Oversized Recliners For Big and Tall People
Recliners have become a must have piece of furniture these days and thankfully they are available in all different sizes. An oversized recliner can accommodate the largest of body frames. With weight capacities of up to 500 lbs, these big man chairs are heavy duty and built to last.
My No.1 choice the Stallion by Lane Furniture, may not have have the frills and features of some of my other choices. However as a heavy duty, extremely large recliner, for me it is definitely the king of oversized recliners. With a 500 lb weight capacity and full recline length comparable to a King Size bed, this chair will be a perfect match for the biggest, heaviest and tallest of people.
When choosing an oversized recliner, I would advise you to read some of the reviews on Amazon. This way you will get a feel for the recliner and brand. Reviews from satisfied or unsatisfied customers will let you know if the chair is a hit or one to miss. An oversized recliner is an investment that should last you for several years, therefore it is important to find the right one for you and your home.
I hope you found this article on the best 'oversized recliners for big and tall people' helpful, and I hope you you either found your ideal oversized recliner or got a better idea of what type of large recliner you are searching for.