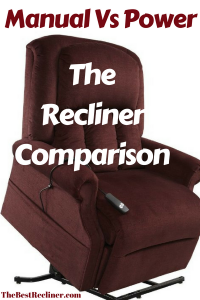 So you have decided you want to buy a recliner.  However, which one to get?  Due to recliner popularity these days and the availability of reclining chairs in all different shapes and sizes, customers have never had so much choice.  Its hard enough to pick the right style and color but what about the type of recliner.  The two main types of recliners available to you are a manual recliner and a power recliner.  Let us compare the two to see which one will be the best for you.
Manual Recliner –
The two methods of reclining a manual recliner are to use a hand lever on the side of the chair or by using body strength to push back the backrest.  Manual recliners are usually cheaper and more basic than power recliners and will also only recline to a certain angle but not to a fully flat reclined position.
Pros –
Cons –
Power Recliner –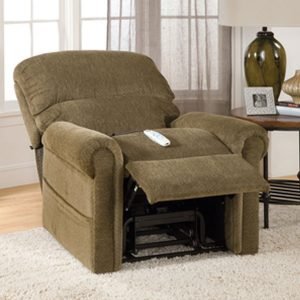 A power recliner operates by using a motor to recline the backrest and/or lift the footrest in a smooth and effortless motion.  Power recliners normally have a remote control attached, allowing the user full control of the recline angles, all at the touch of a button.  Power recliners are powered by a battery power pack or by using a standard electrical outlet.
Pros –
Cons –
Which One Is Better For You –
Manual and power recliners both have positive and negative elements to them.  A manual recliner mainly benefits a person on a budget and doesn't need the features a power recliner provides.  There are plenty of budget manual recliners to choose from and are of high quality.
Power recliners will definitely suit people that have difficulty using their body to activate the recliner manually. They will also help people to stand up or sit down unassisted.  A power recliner can be great for giving a person more physical independence.  What is more, a power recliner has many great features to choose from, so if you like cool features like sleeping on a fully flat recliner, or having a soothing massage after a hard day, then a power recliner is the one for you.
Both a power recliner and a manual recliner offer the benefits of lying back, relaxing, easing lower back pain, increasing blood flow and having a snooze in the daytime.  Therefore, either one is awesome!
I hope this article will help you decide whether a manual or power recliner is the most suitable for you.