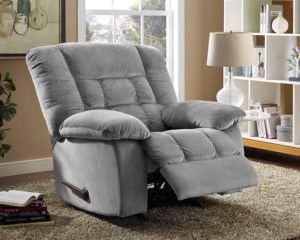 The Sophie Three Position Rocker Recliner by RevoluXion might look one of the most comfortable large size recliners on the market and it certainly doesn't disappoint. With its rocker and swivel features and extra padded armrests, it is the perfect chair for unwinding and taking a relaxing daytime nap. Lets have a closer look at the details of this recliner to see if it is a good option for you.
This page contains affiliate links. We hope you love the products we recommend but just so you know, if you purchase a product from one of our links below, we may receive a small commission. Details here.
If you are in a hurry, then click on the link to see the price and customer reviews of this recliner.
Who is the Sophie Three Position Rocker Recliner by RevoluXion Suitable for –
What makes this recliner stand out from a regular recliner is its extra large size. It is not the biggest of chairs, however it does have a weight capacity of 300 lbs which is still quite decent. There are chairs available that can handle up to 500 lbs but if you are within the 300 lbs range, then this chair is worth considering.
The recliner should hold someone of 6 feet comfortably and with a width of 24″ between both armrests, it is a little bit roomier than the average chair.
If you are a fan of rocking chairs, then the rocker feature will be a big plus for you as you can relax and rock away while watching TV or before you take a nap.
The chair also swivels, making it a great option for nursing mothers. Instead of having to stand up or reach for something behind the recliner, you can swivel around and grab the item without disturbing baby too much.
The swivel feature is also very useful for the disabled, elderly and people recovering from surgery, so that they don't have to overreach or stand up every time they need to get something near the recliner.
Materials & Construction –
What I really like about this recliner is its comfy armchair design. It looks like a regular armchair with extra padding. If it wasn't for the handle at the side, you wouldn't know it was a recliner at all. The seating area, although well padded is still quite firm, giving it added support and not that sinking feeling that some chairs might have.
I really like the look and feel of the Platinum grey fabric because it is really soft to the touch. The fabric has a microfiber velvety feel to it and when combined with the pillow armrests, it is certainly a chair you can relax on. The microfiber upholstery is easy to clean, therefore this chair is kids and pet friendly.
The frame itself is made of quality wood and it appears to have strong and sturdy construction.
Dimensions –
Its Overall Width:

41.5″

Its Overall Depth: 43″

And Overall Height: 44.25″

From Cushion To Top of Back: 29″
Seat Width Between Arms: 24″
Its Seat Depth: 22″
And Seat Height from Floor: 20″
Length Fully Reclined : 67″
Weight Capacity: 300 lbs
Features –
It is a manual recliner with handle at the side
Use the handle to glide between three different positions
The recliner is has a solid construction with a strong and sturdy wood frame
Although the chair is well padded, it is quite firm and supportive but also very comfortable
Rocking feature is smooth and needs little effort, perfect for unwinding and relaxing
Swivel feature is ideal for nursing mothers, disabled, injured and elderly because the swivel will allow easier access to the surrounding area
Velvet microfiber fabric is very soft to the touch and easy to clean
Pet and child friendly upholstery
Simple, tool free assembly
Pros & Cons –
Pros –
Looks and feel so comfortable
Larger than the average size recliner
Rocker and swivel features are smooth and easy to perform
Rocker and swivel features are ideal for nursing mothers and people recovering from surgery
Tool free assembly is as easy as sliding the top section into the bottom section
Fabric should be easy to maintain, making it children and pet friendly
Strong and sturdy construction
Cons –
Might not be large enough for someone over 6′
RevoluXion Sophie Rocker Recliner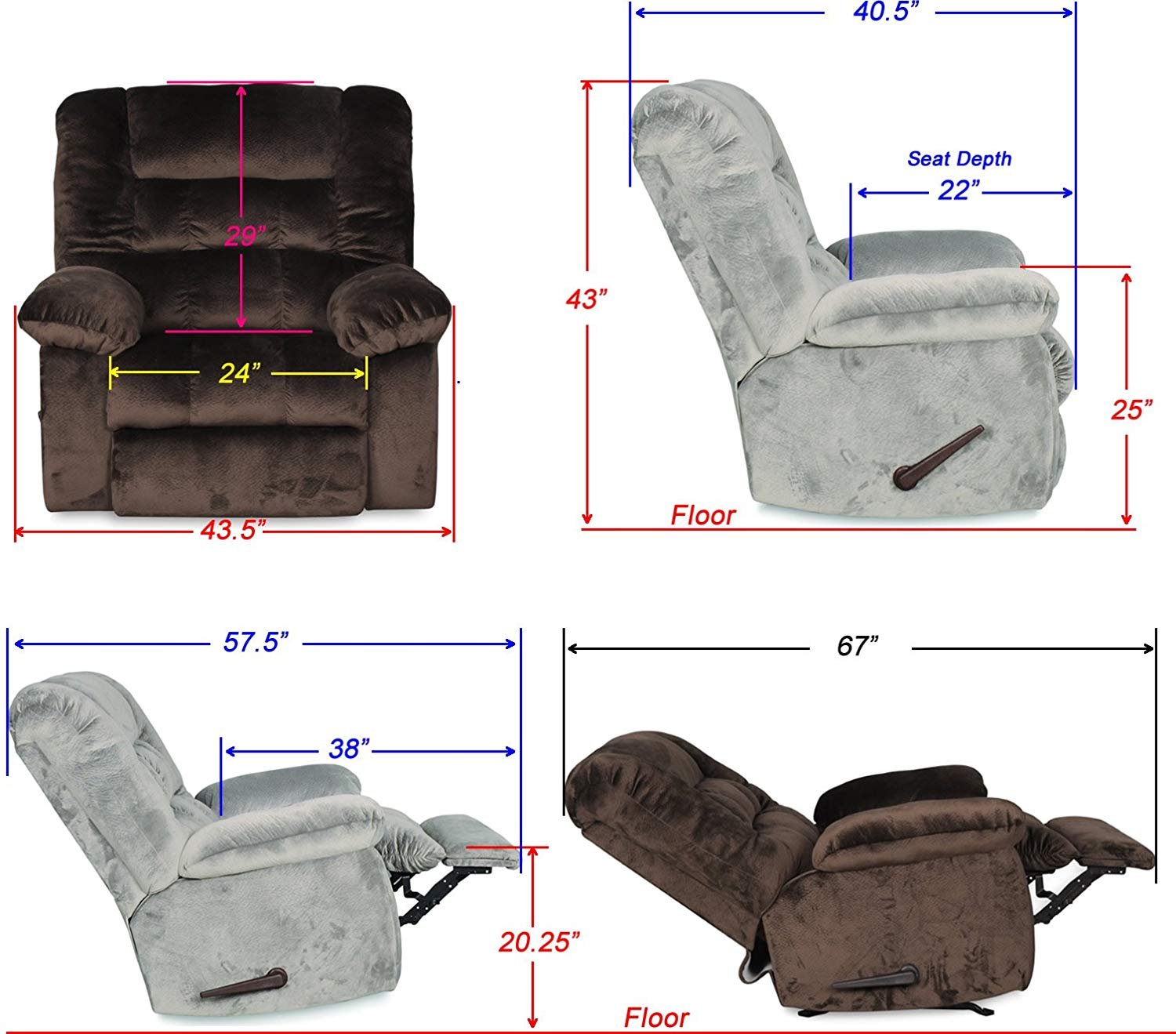 ---
Final Thoughts –
The Sophie Recliner by Revoluxion not only looks very inviting but it doesn't disappoint in comfort and style. This large recliner is well padded and soft to the touch but also well supported to give a firm comfortable seat.
The rocker and swivel features are always great features to have and will be perfect for a nursing mother or someone recovering from surgery, so they don't have to overstretch for items nearby.
Not only is the recliner roomier than the average size chair, it also has easy to clean and maintain microfiber fabric which means it will be kid and pet friendly.
For an oversized recliner, it doesn't have a huge weight capacity, however 300 lbs isn't too bad at all. It is also not the longest of recliners compared to some of the other big man recliners, however it should fit a person of 6 feet and under quite nicely.
The Sophie Recliner by Revoluxion is a really nicely constructed chair with good features and is definitely a recliner worth considering.