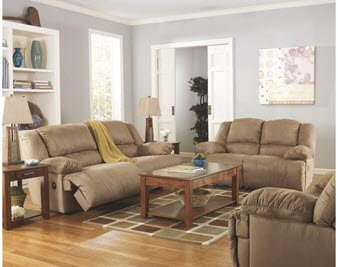 The Hogan Oversized Recliner by Ashley Furniture Signature Design not only looks the most inviting chair on the planet but it must surely be one of the widest single recliners available. With its contemporary design, earthy Mocha color and soft fabric upholstery, this oversized recliner will be a great addition to any living room. If the image hasn't sold you yet, read this review to find out if this extra-wide chair is the one for you.
This page contains affiliate links. We hope you love the products we recommend but just so you know, if you purchase a product from one of our links below, we may receive a small commission. Details here.
If you are in a hurry, why not check out the Price and Customer Reviews here.
Quick Links to Info on this Page
Who is the Hogan Oversized Recliner by Ashley Furniture Suitable for –
The obvious feature of this oversized recliner and what makes it stand out from others is its width. This chair is Extra-Wide at a whopping 59″, which means you have to make sure you have enough space in your living room for it. The measurement between the armrests is 28″ which is very wide but it also means that the arms themselves are very wide.
The chair is perfect for a heavy person that doesn't want to have to squeeze into their favorite chair everyday and have a little space to shuffle around. It is worth noting however that although this chair has more width than most other oversized recliners, its weight capacity is still only 300 lbs. 300 lbs is still a decent weight limit but not as much as a big man chair, such as the Stallion by Lane Furniture or the Mega Motion Power Lift Chair, both having a weight capacity of 500 lbs.
Many customers talk about sharing this chair with their partner, just like a love seat. They snuggle up while watching TV, however you will need to be quite thin for two adults to fit comfortably in the seat. It is a perfect chair for sitting with a small child, whilst watching a movie or reading a story to them.
Don't be surprised if you have to share this seat with your dog or cat because the space between you and that arm rest will look very inviting.
Materials & Construction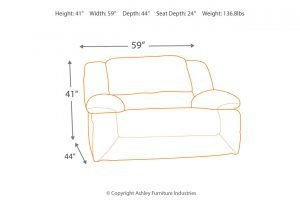 The upholstery is made of 100% polyester fabric and is very soft to the touch. It has a synthetic suede feel to it. One thing worth mentioning is that the color is darker than the images. It is more of a brown than the light mocha color in the promotional images. That being said, it shouldn't be a deal breaker unless you have your heart set on a light color brown. Unfortunately, the chair is only available in one color, however the darker color will allow it to look cleaner and new for longer, especially if you have kids and pets.
Under the upholstery is high-resilient foam cushion wrapped in thick poly fiber. This is a well padded chair that will be great relaxing and sleeping on. The arm rests are quite large also, so it really is a large throne for your living room.
It has a solid and sturdy construction with a corner-blocked frame and a metal reinforced seat. As mentioned above, its weight capacity is 300 lbs, so not as strong as some other oversized chairs but definitely not flimsy.
This chair is also a zero wall recliner meaning it is not only a wall hugger but can be placed right up against the wall. This is a great space saver because you don't need any room between the back of the chair and wall. The recliner will recline as normal and glide into place without hitting or damaging the wall behind.
Dimensions –
Width: 59.00″
Depth: 44.00″
Height: 41.00″
Arm height: 27.00″
Distance between arms: 28.00″
Distance between recliner and wall: 3.00″
Fully reclined length: 68.00″
Reclined footrest height: 20.00″
Seat depth: 24.00″
Seat height: 21.00″
Top of cushion to top of back: 21.00″
Weight: 136.8 lbs
Features –
Zero Wallhugger – needs little to no room between back of chair and wall to reach a full recline position
High-resilient foam cushion wrapped in thick poly fiber
Corner-blocked frame with metal reinforced seat
Polyester upholstery – synthetic suede feel
Attached back and seat cushions
300 lbs weight limit
Pull tab manual reclining motion
Extra width and very roomy
Pros & Cons
Pros –
Extra wide – 28″ between armrests
Soft synthetic suede fabric is very comfortable
Suitable for large people
Great for sharing a seat with children or pets
Zero wall hugger – Can be placed against a wall and still recline fully
Contemporary design
Built by a reputable company
Cons –
Color is darker than the images (more brown than beige)
Weight limit of 300 lbs is less than other big man chairs which have capacities of up to 500 lbs
Ashley Furniture Signature Design - Hogan Oversized Recliner Review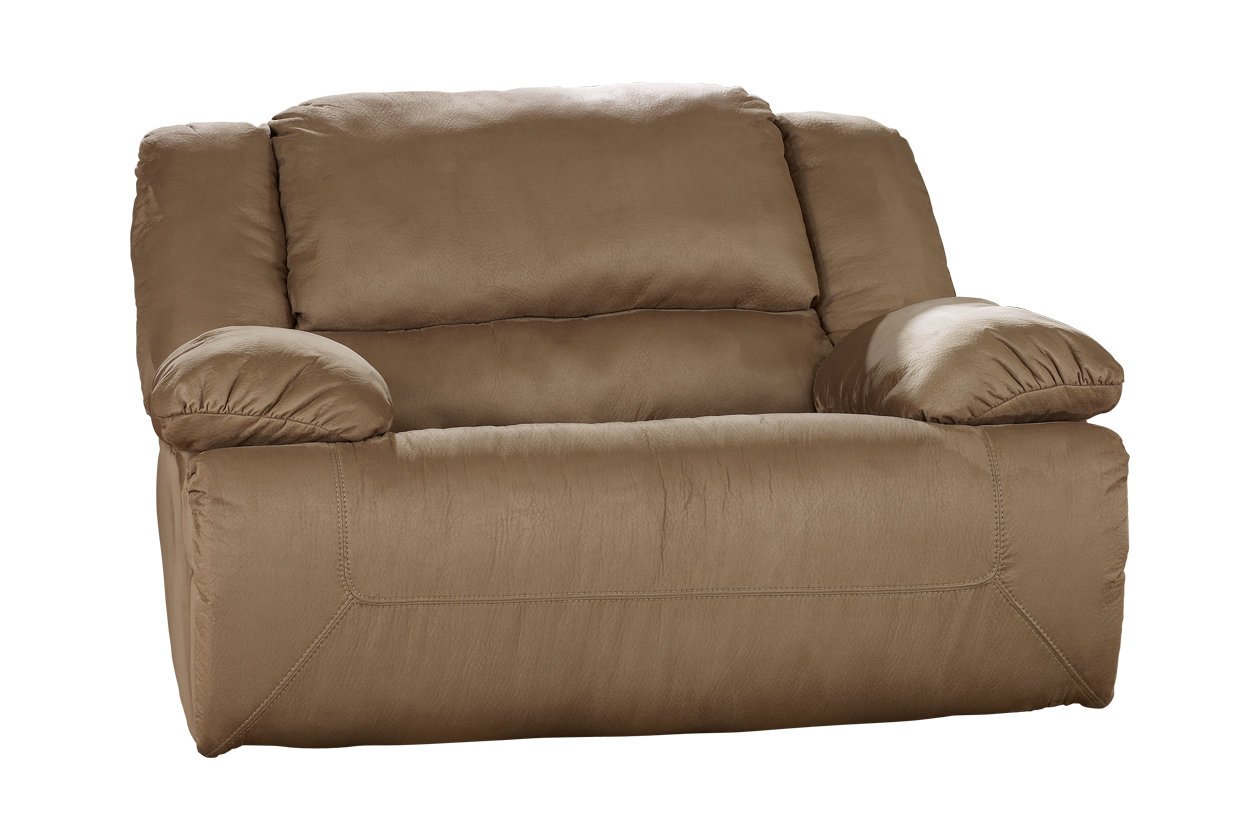 ---
Final Thoughts –
Oversized recliners are great chairs for people needing that extra space to relax and stretch out on. The Hogan Oversized Recliner by Ashley Signature Furniture Design is one of the widest single chairs on the market, so if you are looking for an extra wide chair, then this is definitely the one for you. This chair will be similar in width to a small love seat, therefore make sure you have enough space to fit it in your living room. Although the weight capacity of 300 lbs is decent, it doesn't compare to other big man chairs. If you are looking for an extra wide oversized recliner that looks great and is very comfortable, then the Hogan Oversized Recliner by Ashley Furniture Signature Design is a good option for you.