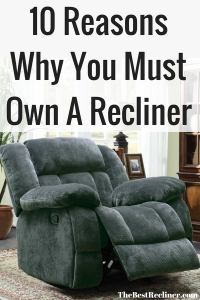 If you've never owned a recliner, then you are missing out.  If you are thinking of buying your first recliner, then great decision.  However, if you already have a recliner, then you will already know most of these reasons that make a recliner a must have piece of furniture in every home.  In this article,  10 reasons why you must own a recliner, I will be listing some of the many benefits of owning a recliner and what has made them so popular these days.
Health Benefits –
Yes, using a recliner is good for your health!  Lying back and relaxing in a recline position is not only great for relaxation but can also have health benefits.  Raising your legs can improve blood flow to the rest of the body and take the weight off your aching feet and ankles.  Speaking of taking the weight off…….people with back conditions have experienced great benefits from using a recliner.  Lying down on a bed helps relieve pressure on the spine, however it is not always the most comfortable or enjoyable solution.  Compared to sitting on a regular chair, lying back on a recliner will take a lot more pressure off your lower back, and it is great for reading, relaxing, watching TV or even snoozing.  If you want to improve your health, get yourself some Vitamin R(ecliner)!
Sleep –
Relaxation and sleeping go hand and hand, right?  Well, if you use are feeling tired and want to relax on your recliner, then be prepared for a deep sleep.  Raising your feet on the footrest, reclining back at a perfect angle and closing your eyes will almost feel like you stretched out on a bed.  The real benefit for me about sleeping on a recliner, is that when I wake up, I don't have that aching neck and shoulder feeling like I do when I fall asleep on a regular chair.  Have a look at these awesome sleeper recliners to see which style might be suitable for you.
Features –
One of the obvious differences between a recliner and a regular armchair, is all the different features you can find on a recliner.  A wall hugger recliner, reclines with very little space needed behind it.  A power lift recliner is fantastic for people that find it difficult to sit down and stand up without assistance.  How about a massage feature that soothes aching and tense muscles, while you relax on your chair.  Just like your very own home spa!  A recliner that rocks and swivels is another common option.  A basic recliner will not have all of these features, however if you like the sound of some of them, then they are available in many different recliners.
Price –
Due to the mass availability and popularity of recliners these days, competition has never been higher.  And one good thing for the consumer when it comes to competition is that prices fall.  Yes, there are very expensive recliners on the market, however there are many recliners available for an absolute bargain.  In fact, in this article I found some amazing recliners for less than $200 and all are of high quality.  If price was a reason for stopping you buying a recliner, then don't worry, there are fabulous recliners to suit all budgets.
Comfort –
When searching for any type of chair, comfort is important.  Recliners can be just as comfortable as a regular armchair and are available in a soft cushioned armchair style, medium comfort or even a firm club chair style.  Whatever your preference is, there should be one available.  If you cannot test the recliner before you buy, then always read reviews on the comfort.
Style –
There are so many different styles to choose from when buying a recliner.  Not only different colors and patterns but also different shapes and styles of recliners.  If you like the classic armchair recliner, the club chair look, the classic regal wingback recliner, a recliner on legs or a recliner on a swivel, there are so many to choose from.  What ever decor, style or color your room has, you will be able to find the perfect recliner to match it.
Durability –
Fortunately, there are many top brands that make high quality recliners.  These recliners are made of high quality materials and top quality construction.  When buying a recliner you would hope it will last for several years.  Of course, you get what you pay for, however even bargain recliners can be built to last.
Relaxation –
A comfortable armchair is great when you want to relax, however no matter how comfy an armchair is, it is no match for a comfortable recliner.  An armchair is great for sitting down, however a recliner is great for sitting down, lying back, relaxing your neck muscles, raising your feet and much more.  A recliner is like a mixture of your comfy armchair and your bed, all-in-one.  If you want some deep relaxation, then look no further than a recliner.
Versatility –
Not only are recliners available in all shapes and sizes, but they are also available in all different colors, patterns and designs.  You can find a recliner to suit any home decor or even an RV.  Most people place their recliner in their living room, however a recliner can be a perfect addition to any room.  A recliner looks great in an office, a gaming room, a bedroom, a patio or even a nursery.  Many mom's use a recliner whilst feeding baby.  Recliners are a very versatile chair.
Size –
We all come in different shapes and sizes and thankfully so do recliners.  There are recliners for big people, there are recliners for short people, there are recliners for all sizes of rooms.  If you have limited free space in your home then have a look at these great small size recliners for small spaces.
Demonstration Of A Power Lift Recliner With Massage Feature
As you can see, these are just some of the many positive reasons for having a recliner.  Recliners have become a part of most homes these days and with these many benefits, you can see why.  If you are undecided on whether you need a recliner or not, I hope that some of these 10 reasons might help you make up your mind.