Best Recliner for Lower Back Pain And Back Support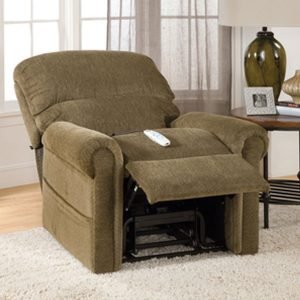 Lower back pain can not only be a nuisance when standing up but a lot of the time there is no relief when sitting down either. Due to the weight of the upper body on the spine, pressure is placed on the lumber region. When a person sits down, they take most of the weight off their feet but do not take all the weight off their lower back.
Lying down can take a lot of this weight off of the lower back.  However, unless you lie on your sofa or bring your bed into the living room, then lying down to relieve back ache is not always possible.  A recliner is the closest thing you can get to lying down and this is why I believe every living room should have a comfortable recliner, especially for those suffering from a bad back.
Sitting in a recline position will take the weight off of your spine and will relieve all that pressure on your lumbar region.  In this article I will review my best recliner for lower back pain and back support.
Top Rated Recliner For Relieving Lower Back Aches And Pains
Serta Perfect Lift Chair Plush Comfort Recliner w/ Gel-Infused Foam Relieves Key Body Pressure Points –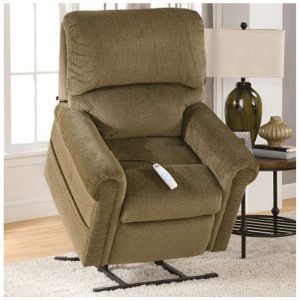 The Serta Perfect Lift Chair gets my #1 recommended vote for comfort and quality.  When suffering from back pain, comfort is very important. This Serta recliner is cushioned with Gel-Infused foam.  This foam will not only provide pressure point relief throughout the body but will also help relax the muscles.  This can only be a good thing for a person suffering from constant back ache as relaxed muscles will reduce tension and relieve pain.
The beauty of this recliner is that when you press the remote control to recline, all the pressure on your spine will be relieved as you relax into a recline position.  This position is wonderful for reading, watching TV or even having an afternoon nap.  What is more, how many people feel the strain on their back when they want to stand up from a chair.  The Serta Perfect Lift Chair is a power lift recliner, so that when you want to stand up, you press the power lift button and the power lift mechanism will push the chair forward and allow you to stand up, strain free.
This recliner is classified as a medical device.  It is classified as an aid for people that find it difficult to stand up. The frame is built with heavy duty materials and built to last.  The upholstery is made of premium fabrics and will look luxurious in any living room.
If you are looking for a high quality memory foam recliner with a power lift function, then I highly recommend the Serta Perfect Lift Chair.
Details :
Weight capacity : 375 lbs
Medical device
Memory foam cushion with micro support gel for added support and cooling effect
Power lift function
LED light remote control for ease of use
Remote control has USB port to charge phones and ipads
Premium grade materials for comfort and durability
Frame and recline mechanism – lifetime warranty
5 year warranty – electric motors
2 year warranty – recliner as a whole
Free shipping
Serta Perfect Lift Chair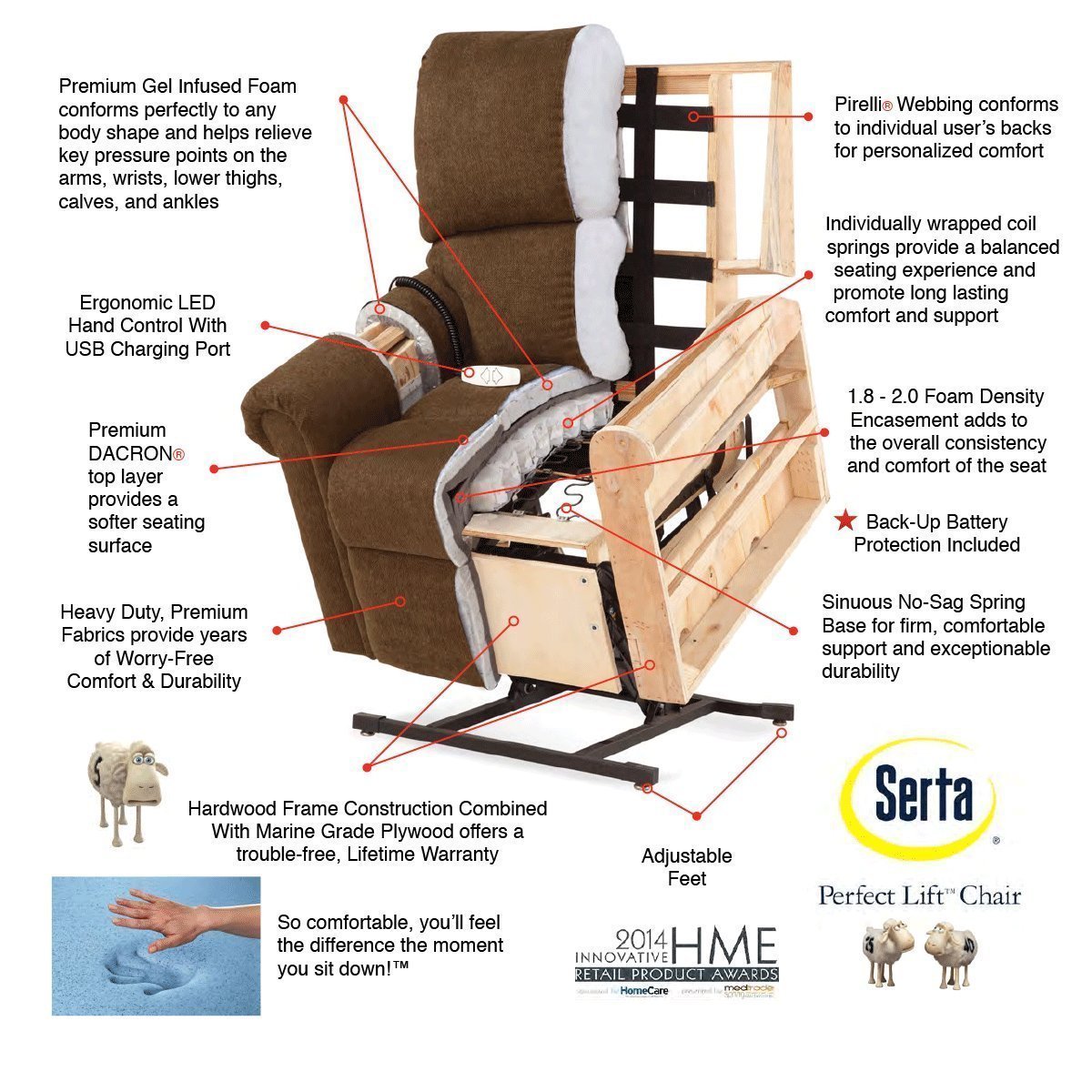 ---