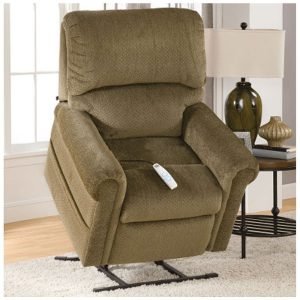 It is common knowledge that people are sitting down a lot more these days compared to years ago. This along with bad sitting posture are leading causes of the increase in doctor visits due to back pain. There is some truth to this, however, it does over simplify the problem.
Yes, people are certainly sitting down more in modern times compared to decades before. This may be due to a greater number of people working in offices and a greater amount of entertainment available, e.g. TV, to make us want to sit down for longer periods.
Also, bad sitting posture is a huge reason for creating back problems and causing pain, especially in the lower back area.
However, standing all day causes its own problems for not only the back but also the legs as well.
One of the main reasons for back pain is the pressure building up on the spine. Bad posture can cause this pressure to increase, however, having great posture doesn't remove the risk completely of suffering from back pain.
The spine has to hold up a heavy head and the rest of your torso, all day. What is more, whether you are standing or sitting, the weight of your upper body is still there. Realistically the only time your spine and spinal muscles get a break is when you are lying on your bed.
This is where a recliner comes to the rescue and probably the main reason why it is the favorite chair of so many people. A recliner allows you to recline at an angle and relieve the pressure off your spine and lower back.
Even just by reclining a little bit, will take some of the weight off your spine and the less weight your spine has to hold up, the less pressure it will feel.
Therefore, a recliner can be a valuable tool in relieving back pain and reducing the workload your spine has to endure throughout the day. By reclining every now and again throughout the day, you will relax your back muscles and give your spine a much needed rest. You only have one spine, so make sure you look after it.
This page contains affiliate links. We hope you love the products we recommend but just so you know, if you purchase a product from one of our links below, we may receive a small commission. Details here.
My #1 Recommended Pick Best Recliner for Bad Backs And Spinal Support
Serta Perfect Lift Chair Plush Comfort Recliner w/ Gel-Infused Foam Relieves Key Body Pressure Points –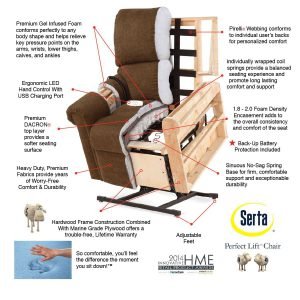 The Serta Perfect Lift Recliner is built for supreme comfort and designed as a medical device for those needing the benefits of a power lift chair and the comfort to give that extra bit of care to painful areas.
I am a big fan of memory foam and know the benefits of a memory foam mattress and pillow for relieving aches and pains while I sleep, however, this is the first time I have found a memory foam recliner. The beauty of this recliner is that it not only has the comfort of memory foam but it also has the support and cooling effect of micro support gel. This foam padded recliner will not only provide support to your back but it will also provide relief to pressure points, ideal for those suffering from bulging discs, disc degeneration and other back problems.
Also the chair has a power lift function that will help those finding it difficult to get up from a sitting position, to stand up without any strain or pain. Ideal for post surgery, ageing bodies or pinching pain in the back that irritates when standing up and sitting down.
The recliner also comes with an easy to use remote control with two LED lights to guide the user (a nice touch for the elderly). However, there is another feature that I really like, which is a USB port on the remote control for easy charging of phones and ipads. Just sit back and relax in a recline position and charge your phone while you are at it.
Serta uses premium materials built for comfort, that last for years. Serta stands by its products and it shows in their warranties. The frame and recliner mechanisms have a lifetime warranty, electric motors are covered for 5 years and the chair as a whole has a 2 year warranty.
For all these great benefits and features, the Serta Perfect Lift Chair Plush Comfort Recliner gets my #1 choice for best recliner for bad backs and support.
Details –
Colors : Forrest, Ocean & Chocolate
Weight capacity : 375 lbs
Medical device
Memory foam cushion with micro support gel for added support and cooling effect
Recline and power lift function
Remote control with LED lights for ease of use
Remote control has USB port to charge phones and ipads
Premium grade materials for comfort and durability
Frame and recline mechanism – lifetime warranty
Electric motors – 5 year warranty
Recliner as a whole – 2 year warranty
Free shipping
Serta Perfect Lift Chair Plush Comfort Recliner w/ Gel-Infused Foam Relieves Key Body Pressure Points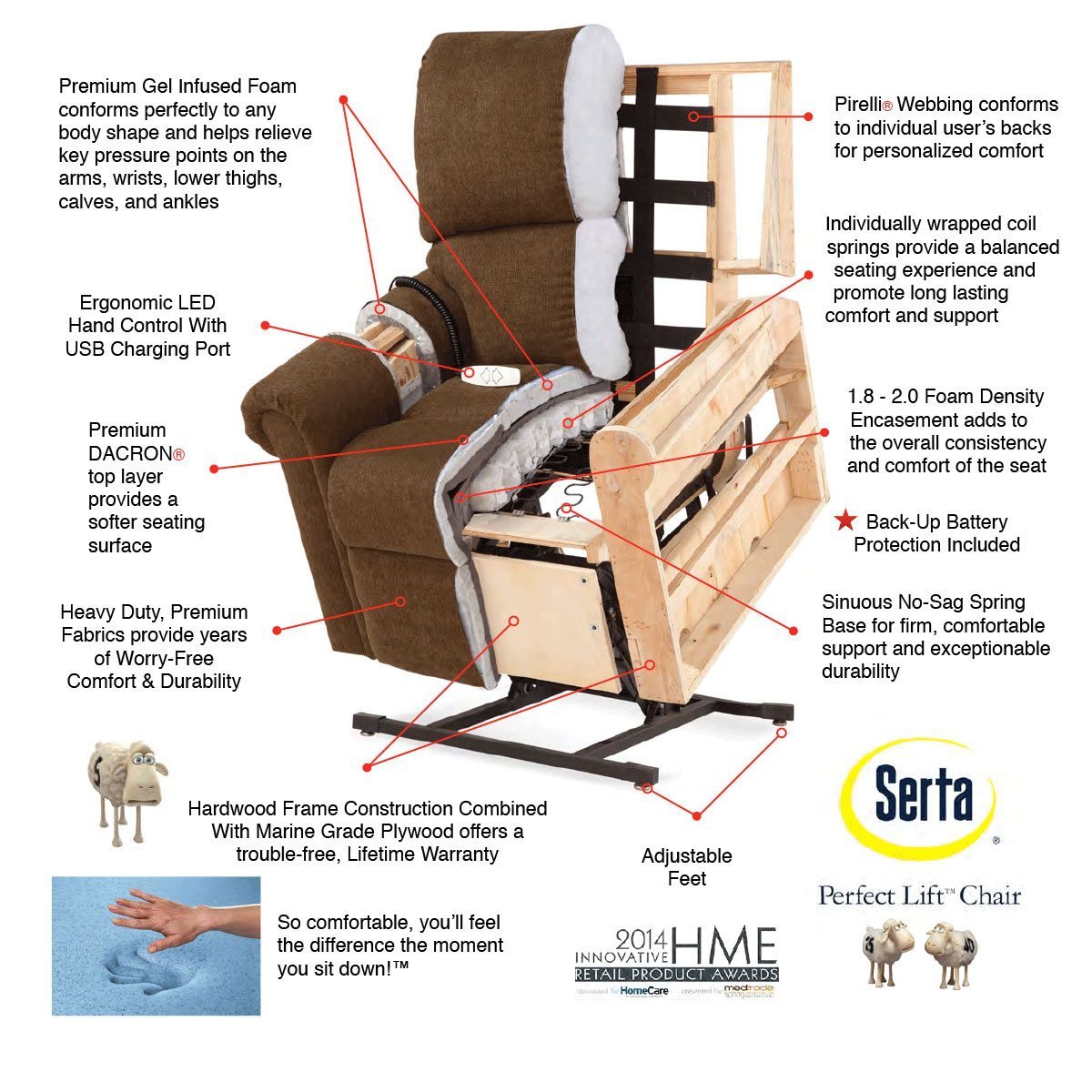 ---
Top Rated Power Lift Recliner For Back Pain Relief
Mega Motion Lift Chair Easy Comfort Recliner –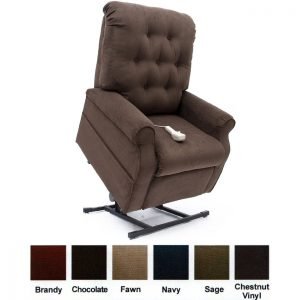 What will a person with back problems seek in a recliner? Well first of all any recliner will help your back pain. A chair with the ability to recline will ease the pressure on your lower back and subsequently reduce back pain. However, a recliner should be sturdy and solid to provide comfort but most importantly, to provide that added support.
This is one of the main reasons I chose the Mega Motion recliner. It is solidly built with a hardwood frame that has a weight capacity of 325 lbs. It is also built with a heavy duty steel mechanism that offers a quiet and smooth recline.
Another feature I really like about this recliner is the lift option. The recliner has 3 positions for you to choose from: the upright position, the recline position and the lift position. This recliner is great for those finding it difficult getting out of the chair. With the touch of a button you can go from lying down to sitting up and finally being eased off the chair by a forward lifting motion. This lifting option is not only great for the back but also for the knees and is a wonderful tool for those that have had back surgery.
The recliner has a remote control that can be used on the left or right side and can also be stored in a storage pocket at the side of the chair.
The lift mechanism comes with a lifetime warranty and the recliner as a whole comes with a 1 year warranty.
If you are suffering from back pain and would like a comfortable yet supporting power lift recliner, then the Mega Motion Lift Chair Easy Comfort Recliner is the recliner for you.
Details –
Colors : various colors to choose from
Weight capacity : 325 lbs
3 positions : Partial recline, Full recline & Lift
Remote control
Provides comfort and support
Lift option is great for post surgery or preventing strain when standing up from sitting position
Integrated battery emergency backup
1 year warranty in home service
2 year warranty for parts
Lifetime warranty on lift mechanism
Delivery to door, free of charge
---
Best Budget Value Recliner For Lower Back Pain Relief
Dorel Living Padded Dual Massage Recliner –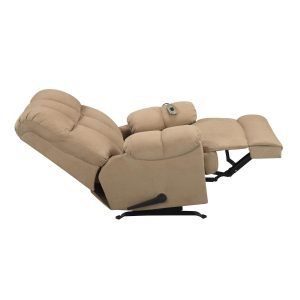 We all like bargains right? Well I certainly do and I believe that this Dorel Living padded recliner gets my top value pick. I am a firm believer that you get what you pay for, however, sometimes you do get some nice features that you would usually pay a lot more for. So what does the Dorel Living recliner provide for bad backs :
Well first of all, it is padded from top to bottom to provide that extra bit of comfort for aching bodies. This padding not only provides cushioned support to the back but also to the legs and arms.
Another feature I like is the zone massage options that are located in the seat and back. There is a high and low setting and they can be operated separately. Word of warning : this massage feature is more of a vibration. Don't expect any frills with this feature, however, I still think it is a nice touch and can be quite soothing to your back to have the vibration while you relax.
Another feature I love about this chair is that it is a rocker. When the chair is in the upright position, it can be used as a rocker. The rocker is very smooth and is very soothing indeed. When you release the lever at the side however, the chair ceases to rock, it reclines back and the foot rest pops up. Great for napping.
What more can I say that many other customers on Amazon have already said "Great chair for the price". If you are looking for a great value comfortable recliner with extra foam padding, support, that reclines and is a rocker, then look no further than the bargain Dorel Living Padded Dual Massage Recliner. You will not be disappointed.
Details –
Colors : Chocolate & Tan
Weight capacity : 300 lbs
Rocker & Recline options
Zone massage function in back and seat (can operate together or separate)
High and Low vibration options (but can also be turned off)
Extra foam padding on back, legs and arms areas
Great value budget recliner
---