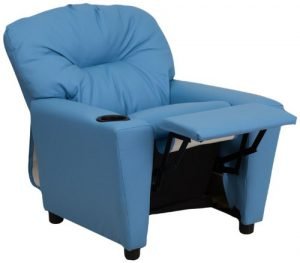 If their is one thing that kids want, it is what grown ups have. Children want their own child size car, Mommy's make-up, Daddy's tool set, so why not have their own recliner. They see how comfortable it looks when Dad has his afternoon nap on a Sunday. So it is only natural they would like their own.
Now there are mini reclining chairs available for children that look identical to a full size recliner. No longer will your kid have to share a recliner with you while watching TV. With these mini recliner chairs, your child can have their very own recliner, just like the grown ups have.
Check out my Top Little Kids Recliner Chair with Cup Holder, next.
This page contains affiliate links. We hope you love the products we recommend but just so you know, if you purchase a product from one of our links below, we may receive a small commission. Details here.
My Top Recommended Cute Kids Recliner Chair With Cup Holder
Flash Furniture Contemporary Kids Recliner with Cup Holder –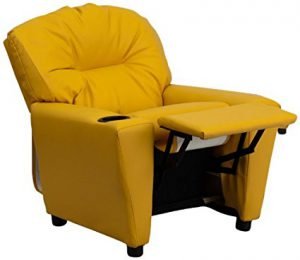 Flash Furniture have made this great little petite sized recliner chair for your little ones to enjoy and relax next to you and your recliner. It is a good quality reclining chair, however, the most important detail to assess before purchasing this is whether it will be large enough for your child.
This recliner is a small chair and only suitable for children under 6 years old at a push. If your child is 6 years old and is big for their age, then this recliner may be too petite for them.
Let's have a look at the measurements. This children's recliner measures 24.5″ depth x 39″ height x 28″ width. The height of this recliner is 39″ tall, so that should give you a good idea of the size of the chair. It is a solid and sturdy chair, so you shouldn't have to worry about it breaking from a heavy weight ( has even been tested by adults sitting on it).
The quality of the chair is very pleasing with and array of colors to choose from and a choice of microfiber or vinyl fabric upholstery as well. If your child manages to spill a drink on the chair, it will be easy to clean up with a damp cloth.
A handy cup holder is placed on one of the armrests so that your little one can enjoy a beverage while relaxing.
This little kids' recliner with cup holder is a a cute mini recliner that is perfect for toddlers but not ideal for larger kids.
If you would like to read some reviews on Amazon and also see the price of the Flash Furniture Contemporary Kids Recliner with Cup Holder, then follow this link.
Details :
Suitable for small kids
Available in 13 different colors
Microfiber and vinyl fabric upholstery to choose from

Dimensions : 28″ width by 24.5″ depth by 39″ height

Weight capacity : 90 lbs

Overstuffed padding for comfort

Easy to Clean with Damp Cloth

Cup holder in armrest
Flash Furniture Contemporary Kids Recliner with Cup Holder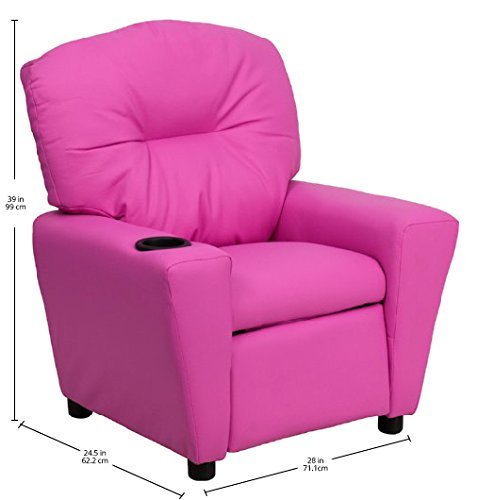 ---
Flash Furniture Little Kids Recliner Chairs With Cup Holder