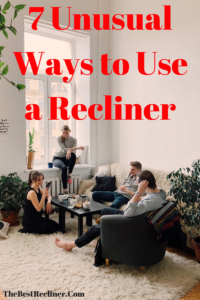 Recliners have become one of the most popular chairs in the family home these days and have surely surpassed the humble armchair.  A recliner is just as comfortable as an armchair however it does have some extra perks.  A recliner has extra features that an armchair just cannot provide.
However, many people think that a recliner is just another armchair that allows you to lie back at an angle.  They also believe that a recliner is only useful for relaxing while watching TV or reading a book.  Yes, a recliner is awesome for lying back and watching your favorite TV series or reading an interesting book, however recliners can be used for other things also.
Check out some of these interesting ways to enjoy a recliner.
1.) Meditation –
Now I am not an expert on meditation however I did a little research on whether a recliner would be a nice place to meditate on.  I already knew that lying flat on your bed or ground could easily make you fall asleep, however meditating at an angle can work if you are already fully rested.  If you are exhausted, then a recliner will knock you out quicker than you can say Mike Tyson.  Meditating while sitting with your back straight can be quite painful for anyone with back pain, therefore if you like to meditate and you suffer with a bad back, try your recliner to see if it benefits you.  Meditating at an angle should take a lot of the pressure off of your spine, allowing you to meditate pain free.
2.) Sleep –
Sleep?  There is nothing unusual about taking a nap on your recliner, right?  Everybody doses off on their recliner.  However,  I am not talking about naps, I am talking about sleeping the night away on your favorite sleeper recliner.  A recliner as a bed replacement has been very effective for many people that cannot have a relaxing sleep whilst lying flat on a bed.  Certain conditions, such as sleep apnea, can make it almost impossible for a person to get a solid night's sleep.  By sleeping at an angle, many people have finally been able to get enough sleep at night to feel refreshed the next day.  Substituting a recliner for their bed allowed these people to breath more freely and not wake up so often through the night.
The same benefit can be had by people recovering from surgery.  Post-surgery, getting in and out of bed can be a pain and getting up from a chair can be no fun either.  Many people have found that using their recliner as a bed substitute allowed them to have a great night's sleep.  They tried it one night and it was so effective that they continued sleeping on the recliner every night for the rest of their recovery period.
If you are finding it hard to sleep on your bed, then give a recliner a try (and hope your family doesn't wake you up like the poor guy in this funny video :D).
3.) Gaming –
Every gamer knows the value of a comfortable chair.  Sitting down for hours at a time can be painful on many different parts of the body, from the neck, to the lower back, to the butt.  A well supported reclining gaming chair can make those marathon gaming sessions a lot more comfortable and relaxing.  These gaming chairs are not only comfortable to sit on but also have extra support for the lower back and neck region.  Added to this, the reclining feature allows you to lie back at an angle while you play your favorite games.  If you are serious about gaming, then check out some reclining gaming chairs.  They are a very affordable investment.
4.) Exercising –
When I talk about exercising on a recliner, I am not talking about a gym session.  Just like on a regular chair a recliner can be a great place to get in an exercise routine, especially if you are house bound and chair bound.  There are several exercises that can be performed on a chair, however the recliner has a couple of extra leg and core exercises that cannot be done on a regular chair.  The angle of the recliner allows you to do some core and stomach exercises, while the footrest allows you to do some quad and hamstring exercises.  Check out this article on 7 exercise that can be performed on a recliner for a full body workout.
(Strong recliner exercising at 81 years old)
5.) Sunbathing –
Maybe not unusual but definitely relaxing and comfortable.  When you are outside getting some Vitamin D, lying on a recliner is the perfect way to soak up that sunshine.  Zero gravity recliners are very popular these days and are definitely my choice when lying out in the sun.  Gone are the days of those old beach chairs that could have several springs sticking into your back.  The modern zero gravity recliner is the way to go when you want some relaxing time in the sun.
6.) Stargazing –
This is for you guys that are lucky enough to have clear skies at night to look at the beautiful stars.  Having a comfortable recliner in your patio or back garden is the perfect way to lie back and gaze at the stars.  If the sky is clear and the weather is warm enough, then a relaxing hour on your recliner, staring at the stars is a very peaceful way to relax and unwind.
7.) Cuddling –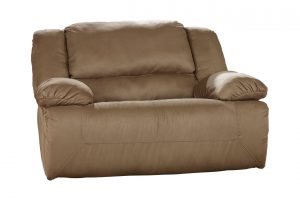 Whoever you want to cuddle up to, whether it is your partner, kid or pet, an oversized recliner is the perfect chair for cuddling.  If you are two large people then a love-seat will be necessary, however if you are two thin adults, then an extra wide recliner like this one, will be the perfect fit.
An oversized recliner is also great for cuddling your kid while watching TV or reading them a story.  Don't forget your pet dogs and cats, as they always find a way to squeeze into any free space in a comfortable recliner.  A pet knows a quality recliner when it sees it.
Sure snuggling up to a loved one is great on a regular sofa or armchair, however nothing compares to comfy recliner cuddles.
---
There you go.  Seven out of the ordinary ways to use your recliner.  Some of them might be routine in your household, however some may not.  If you have any other unusual ways you use your recliner, let us know in the comment section below.