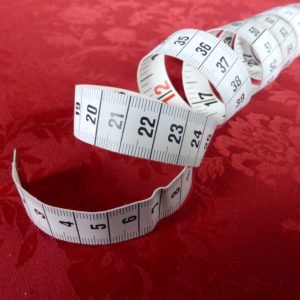 Recliners are available in many different sizes and are similar in shape to a regular armchair. If you ever decide to purchase a slipcover for your recliner, it is important to get the right size cover to fit your recliner perfectly. Most slipcovers are stretchable, therefore an approximate measurement is all that is needed. That being said, it will only take a couple of minutes to measure the recliner, so there is no harm in taking its dimensions before you order the slipcover.
Quick Links to Info on this Page
Measuring For a Slipcover –
Measuring the Back –
To measure the back, make sure the recliner is in its upright position and then measure from the top edge to the bottom edge.
Measuring the Width –
The widest area of your recliner will generally be the arms, therefore measure the width of the chair from the outer edge of one armrest to the outer edge of the other.
Measure in the Reclined Position –
Place the recliner in its fully reclined position and measure from the top edge of the backrest to the bottom edge of the footrest.
Measuring the Area for your Recliner –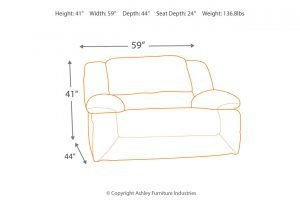 Before you purchase a recliner, it is always a good idea to measure the area you want to put the recliner. A recliner can take up a lot of space, especially when in a full recline position, therefore it is important to know if you have enough free space in your living room to accommodate the chair.
If you are purchasing a wall hugger recliner, then you will not need more than 3″ to 6″ of space between the back of the chair and the wall behind it. Also, if the recliner isn't a wall hugger then you will need upwards of a foot of free space behind the chair when you want to go into a recline position. If free space is a bit tight in your room, then you might have to pull the recliner out every time you want to use it.
The largest recliner I know of is the Stallion by Lane Furniture. This recliner measures the length of a king size mattress when in a fully reclined position and is great for sleeping on. This recliner is definitely larger than most, however you can see that its important to have enough room for a recliner before you buy it, especially if it is an oversized recliner.
Your Measurements –
I don't believe you need to measure every angle of your body to fit the recliner, however a quick measurement of your height and hip width will do no harm. If you are a tall person then a big man recliner will benefit you and if you are wide then a Hogan oversized recliner by Ashley Furniture will be a good fit because of its extra width. Of course, you also need to take weight capacities into consideration.
Taking measurements before you buy your recliner or when you want to buy a new slipcover to keep it looking new for longer is a smart and simple plan. All you need is a measuring tape and a couple of minutes of your time.