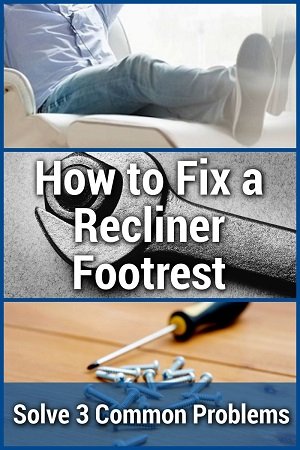 Having issues with your recliner's footrest?  Unfortunately, when you have a chair that has moving parts, then a few things can go wrong.  Fortunately, these issues are usually minor, so there should be no reason why you can't get your recliner back in tip top shape.  In this article, we will be concentrating on 'How to Fix a Recliner Footrest'.  Now there are a few common problems that occur in this part of the recliner, including a footrest that won't close, a footrest that won't stay up and issues with footrest springs.
First of all, you might be wondering why this is happening to your recliner.  Well, if your recliner is getting a little older now, then the signs of wear and tear might be appearing.  A recliner can take a lot of abuse in its lifetime and the footrest is one area that receives a lot of attention.  Flipping it open and aggressively pushing it closed, can lead to damaging and loosening of parts.  Not only that, but dust and dirt may accumulate or rust in the metal areas.
If you are having issues with your recliner, then a little maintenance could well solve the problem.  First of all, some simple tools should be at hand to help you fix your recliner's footrest.
Tools Required to Fix the Recliner Footrest
A screwdriver
A pliers
WD-40
Some rags
How to Fix a Recliner Footrest that Won't Close
Firstly, carefully turn the recliner over to get at the underside.  Inspect the underside of the footrest area to see if there are any loose screws that attach the metal to the wood frame.  If you find any loose screws, tighten them.
Also, before doing the next part, make sure to protect the cushioned areas inside, with some rags.  Now, get the WD-40 and spray the lubricant on any movable metal joints and parts.
Finally, use the handle to release the footrest and open and close the footrest a few times.   Hopefully, at this point the footrest should move freely.  Take out the rags and then turn the recliner back over.  Test out your recliner.  Hopefully, it works like new.
Some simple advice in this video:
But what if you have the opposite problem and your recliner won't stay up.  Then follow these instructions.
How to Fix a Recliner Footrest that Won't Stay Up
First of all, the footrest might not be broken.  If this issue happens every now and again, it is more than likely the way you are using the recliner is the problem.  If you are pulling the handle and vigorously pushing the back of the chair, then it is possible that the spring lock mechanism in the footrest is popping out of place and not locking in.  Whenever you use a recliner, make sure to recline smoothly.  If you want your recliner to work properly and for a long time, then treat it with care, and no sudden jerking movements.
If this is not the issue, then turn the recliner over and inspect the footrest mechanism.  Check to see if the spring mechanism is over stretched, loose or broken.  If you can lock the footrest into place, then the reason you are having issues is as said in the previous paragraph.
If the spring needs replacing, then shouldn't be too difficult to find a replacement part.  If your warranty covers this replacement then you are in luck.  However, if you have passed your warranty guarantee date, then don't worry.  Replacing the spring is not a huge issue and you should be able to remove and replace the spring yourself.
This video may be helpful if you have a Lazyboy recliner:
How to Fix a Recliner Footrest Spring
So the footrest spring is damaged and you need to replace it.  No problem.  Contact the manufacturer to find out the size of the spring you will need to replace the faulty one.  You may also find a good replacement in your local hardware store.
When you have the spring replacement, turn the recliner over to access the footrest area.  Locate the faulty spring and if it is still attached then remove it with the pliers.  Be very careful when removing the spring as it could still be under high tension.  Wearing protective glasses will be prudent.  When the damaged spring is removed, attach the the new spring.  The new spring may be  difficult to stretch into place, therefore placing something like some coins between the coils will allow it to temporarily stretch, making it easier to put in place.  Use the pliers to clip the spring on and then remove the coins.
Turn the recliner back over and your recliner footrest should be in perfect working order again.
This video shows a new 7″ footrest spring, attached and ready to work again.
Hopefully, any problems that have appeared on your recliner footrest are not big issues.  The three problems in this article on how to fix a recliner footrest are issues that you may be able to solve yourself.  If your recliner is still under warranty, then you can take advantage of the manufacturer's guarantee.   However, make sure to see if labor costs are covered in the warranty.  Before cursing your recliner and thinking it is a faulty chair, remember that many issues with your recliner can be fixed with a little spray of WD-40.  And also remember to treat your favorite chair with care when using it.  It should last you for many years to come.